Overview 
Your Dashboard provides an overview of all your assigned tasks. It's where you can stay in-the-know with the latest Activity Feed posts and follow conversations across all projects you're participating in. Without leaving the dashboard, you can reply to posts, see outstanding invoices, access the Task Details side panel, and more.
The information on Your Dashboard is organized into different sections, which include:
People
Activity Feed
Time and Utilization Tracking
Projects
Your Tasks
Invoices
You can access Your Dashboard from the left navigation by hovering over Dashboard and selecting Your Dashboard.
1. People
The People section shows some of your fellow Kantata account members. It also allows you to quickly access and edit your Kantata profile. If you're an Account Administrator, you'll be able to see the total number of account members (in parentheses) and have access to an Add ("   ") icon that allows you to quickly invite new members to your account.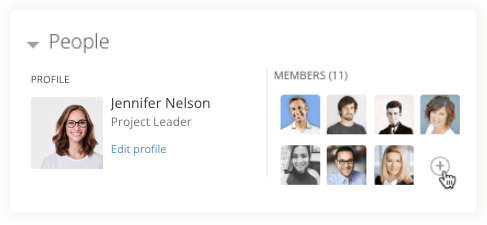 2. Activity Feed
The Activity Feed panel is where you'll find the latest posts, files, and changes to projects for which you belong. You can view details and respond to posts just like you can in the project Activity tab.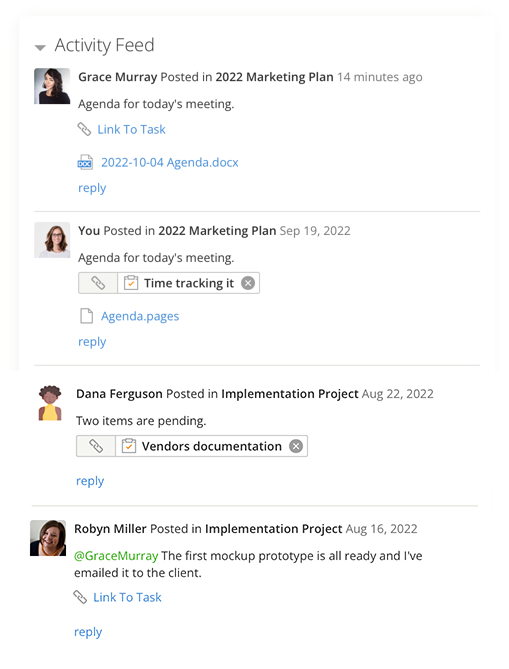 3. Time and Utilization Tracking
The Time and Utilization Tracking panel provides three sections of metrics that show how you're performing against time targets and utilization goals:
Tracked Today
This Week
Billable Utilization

Note
: The
Time and Utilization Tracking
panel can be disabled and/or configured in
General Settings
.
Tracked Today
This section shows a single gray bar that represents your available capacity (your workweek minus time off and holidays) for the day. If there are no hours scheduled for today's date in your workweek, you won't see a bar.
As you track time for today, the bar will fill proportionally with blue. If you go over your available capacity, the bar turns yellow and you are informed of how many hours you are over.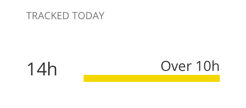 Tracked This Week
This section contains a bar chart that shows your daily available capacity (your workweek minus time off and holidays) in comparison to the actual hours you've worked for the week. As you track time, the individual gray bars fill proportionally with blue. If you go over your available capacity, the bars will turn yellow. Hovering over any individual bar will show you the number of hours you've already tracked for that day.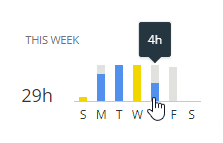 Billable Utilization 
In this section, you can see how you are tracking against your targets for the week, month, and year. This section can reflect future billable utilization targets set in advance in the Account Members Details side panel.
4. Projects
The Projects panel is where you'll see up to four of the most recent projects you've been working on. Each project card in this panel displays the following information:
Project title
Current status
Completeness percentage

Note: The project's completeness percentage is calculated by dividing the total number of tasks by the number of completed tasks.

Due Date

Members with Project Creator account permission (or higher) can quickly Add ("   ") new projects from this section.
5. Your Tasks
If you are assigned any tasks that are past due or due in the next seven days, you'll see them in the Your Tasks panel, sorted by due date. This gives you immediate access to the task details.

6. Invoices
If you have the Project Lead account permission (or higher) and participants on the Provider-side of the project are using Kantata for invoicing, you'll see the Invoices panel underneath Your Tasks. From here, you can view outstanding invoices across all of your projects along with the invoice status, amount, and due date.

To open an invoice, click on the individual invoice row.