A quick overview of time off/PTO—learn how to designate who can submit and approve time off, where time off is added, and where to view upcoming and past time off.
Overview
Account Administrators, designated time managers, and individual contributors can submit and edit time off directly in Kantata OX. When time off is scheduled for an account member, their available capacity is adjusted and will appear in the following areas:
Designate Time Off Managers
You can specify who can submit and approve time off for members of your account in the Manage Time Off section of Time & Expense settings found in Settings > Time & Expense.
By default, only Account Administrators can manage time off for users. However, you can also allow managers to add time off for their direct reports or allow individual contributors to manage their own time off.

To learn more about time off settings, see the Time & Expense Settings article.
Adding Time Off
Time off is added in the Schedule section of the User Details side panel. Once time off is added, it appears in the Upcoming Time Off table. From here, you can view, edit, or delete it if needed.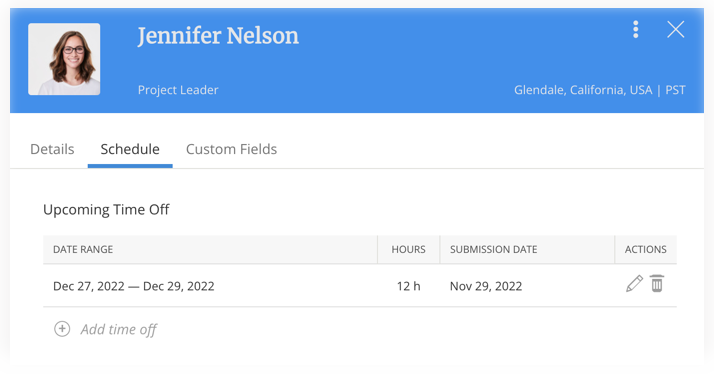 To learn more about adding time off for yourself or other account members, see the Managing Your Time Off and Managing Time Off for Account Members articles.
Viewing Upcoming and Past Time Off
You can view both upcoming and past time off in the Resource Center and the Resourcing tab in the project workspace. Time off is represented by a small, gray triangle in the upper-left corner of a day, week, or month in the timeline.


The compactly-striped gray bars represent days when a team member has all of their capacity scheduled as time off. Click the small arrow to the left of the team member's name to see the total number of hours that person has scheduled off for the selected time period.
Scheduled Time Off also appears alongside Holidays in the Time Tracking and Utilization reports, giving you a more complete picture of how your resources are being utilized.

All time off added for past dates will appear in the Resource Center, the project's Resourcing tab in the project workspace, and the Task Details side panel.
To learn more about viewing or editing past time off, see the Managing Past Time Off article.