Overview
These settings can be used individually or collectively and provide you with more control over how time is tracked on your account.
To access the Time & Expense settings, hover over Settings on the left navigation and select Time & Expense.
Default Time & Expense Settings
The settings in the Default Time & Expense Settings section apply to new projects. To require time and expense approvals for existing projects, select the Time entries must be approved before invoicing and Expenses must be approved before invoicing options in the project's Settings. Keep in mind that these settings can only be disabled if there are no active submissions or approvals.
Require Time Approvals—Project members on the Provider team with Edit Financials project permissions (or higher) will be able to review and approve time for the project where time was submitted.
Require Expense Approvals—Project members on the Provider team with Edit Financials project permissions (or higher) will be able to review and approve expenses for the project where expenses were submitted.
Enable Time Entry Role Picker—Project members entering time will be able to select a role. This helps to keep track of responsibilities within a project. The associated bill rate will be selected when rate cards are enabled. You can add new roles from Settings > Roles.
Require Assignment for Time and Expense Tracking—When enabled, users will only be able to track time and expenses against the tasks, deliverables, issues, or milestones for which they are assigned. When logging a time entry, they will only be able to select from a list of their assigned tasks.
Require Time Entries to be Tracked Against a Location—This setting is only accessible after you've added one or more locations in Locations settings. When enabled, all account members are required to select a location when logging time.

Note

: If preferred, you can require only individual members to specify a location when logging time; this is done from the

Financial

section of the

Account Member Details

side panel.

Require Time Entries to be Tracked Against a Task Type—When enabled, this setting requires that users track their time against a task, deliverable, issue, or milestone. They will not be able to log time without an associated task.
TIP
Kantata has six default expense categories: Entertainment, Food, Lodging, Mileage, Travel, and Other. If you use Kantata's integration with QuickBooks, you can inherit additional expense categories from QuickBooks via sync. Otherwise, you can add, edit, or delete expense categories (even the defaults, except Other) via the Kantata OX API. For more information, see How to Create and Delete Expense Categories.
Expense Amount Settings
The Expense Amount Settings section applies to all new and existing projects.
Allow Negative Expenses—When enabled, this setting allows users to enter negative expenses for projects.
Remind Users to Submit Full Workweek—When enabled, this setting will notify a user when they are trying to submit a timesheet that doesn't contain all their hours for the workweek.
Track Time & Expense Against
This setting allows you to specify what types of tasks that users in your account will be able to track time against. If a task type (Task, Deliverable, Milestone, Issue) is not selected, users will not see that task type in any list of tasks when logging time.
Select the items that are permitted to have time and expenses tracked against them.
Tasks
Deliverables
Milestones
Issues

Time Lock
This setting prevents the addition, modification, or deletion of time entries on or before the selected lock date. This includes changes in status such as submission, approval, and rejection. For more information on these settings, please see our Time Lock article.

Current Lock Date—When you set a lock date, the current date is displayed here.
Set Lock Date—Use the calendar icon ("

") to specify a date through which time entries are locked. You are allowed to set one lock date per account.

Note: If there are time entries in projects that have not been approved before the desired lock date, you cannot lock time.

Download Audit Log—Exports an auditable CSV file containing the date and time the lock was set and the name and ID of the user who set the lock date.
Project Estimate Calculation Options
These settings determine when and how EAC (Estimate at Completion) and ETC (Estimate to Complete) is calculated in the Financial section of the Project Pulse side panel.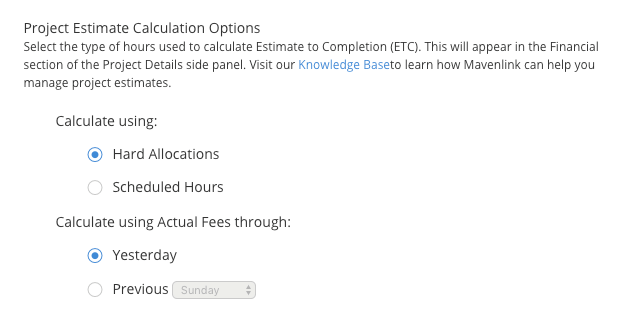 Calculate Using Hard Allocations—This is the default for EAC/ETC calculations. A hard allocation is when a team member has been "confirmed" or "booked" to work on a project; these are managed in the Resource Center.
Calculate Using Scheduled Hours—Calculate EAC/ETC using the hours a resource is scheduled to work on task(s) in a project. Scheduled hours are managed in the Resourcing tab of a project or the Task Details side panel.
Calculation Using Actual Fees Through—Although this defaults to Yesterday, the calculation day can be adjusted to any Previous day of the week to change the boundary between actual fees and EAC. Actual fees are calculated up to the start of the Calculation Day, and ETC is calculated from the beginning of the selected day. For example, if you select Sunday, it will calculate actual fees through Saturday and use ETC to get EAC for Sunday and after.
Manage Time Off
These settings allow you to select the user types who can add, edit, or remove time off. Time off can be managed in the Schedule section of the User Details side panel. By default, only Account Administrators can manage time off.

Account Administrators for all users—This is the default option and cannot be disabled.
Managers for their direct reports—This allows managers to regulate time off for their direct reports, but not for themselves. For more information on how to assign a manager to a managee, see the Account Members details panel.
All users for themselves—This option allows every user on your account to manage their own time off.
Related Articles