Locations
If your organization is operating in more than one state or country, you may need to track where work is being performed—for both analytics reports and tax purposes. The Locations settings allow you to create a list of locations that users can choose from when tracking time in Kantata OX.
This can be done from the following areas:
Once added, location information also appears in the Time Tracking report in Analytics and can be used in custom Insights reports.
Note: The Location selection field will not appear in areas where you track time in Kantata until after an Account Administrator has added a location to your account.
To access the Locations tab, hover over Settings in the left navigation and select Time & Expense. On the Time & Expense Settings page, select the Locations tab.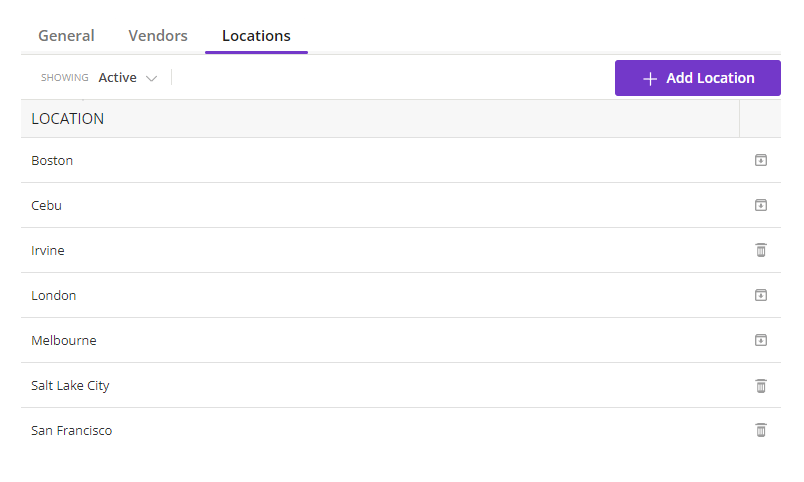 Locations Settings
From the Locations tab, you can:
Add Location—This creates a new location to use when tracking time; location names must be unique. Once you add or update a location, it will be sorted alphabetically in the list.
Edit—You can change the name of an existing location in the list by simply typing a new name in place of the old one. 
Delete ("

 

")—This will remove unused locations from the list. For historical purposes, the ability to delete a location is only available if the location has never been selected for time entry.
Note: You will not be able to delete or archive your last active location if:

Require Time Entries to be Tracked Against a Location is enabled in the General tab of Time & Expense Settings.
Require location when logging time is enabled in the Financial section of the Account Member Details side panel for an individual member.

Archive ("

 

")—For historical purposes, once a location has been selected for one or more time entries, it cannot be deleted. However, you can hide them from the list of available locations. Archiving a location does not affect any previously tracked time; you can still run reports based on that location, but it will no longer appear as a selectable option when creating new time entries. Archived locations do not appear in the Active list view; you can view them by switching the list view to Archived.
Unarchive ("

 

")—Only available in Archived list view, clicking this button makes the previously archived location available to select again for new time entries.

Showing—Use this drop-down menu to show only Active or Archived locations in the list.

When viewing Active, you'll see a list of available locations; active locations can be selected from the Location fields that appear where time is tracked in Kantata OX.
When viewing Archived, you'll only see archived locations. Archived locations cannot be selected from the Location field unless they are first unarchived. However, archived locations will continue to be shown for previously tracked time in Analytics reports.
If only a few people in your organization work remotely but you need to include location for reporting or tax implications, you can disable the global Require Time Entries to Be Tracked Against a Location option in Time & Expense Settings.
Instead, you can require certain individuals to specify a location when tracking time by enabling Require location when logging time in the Financial section of the Account Member Details side panel.