Using the Timer
The Timer allows you to track time from anywhere in Kantata OX without leaving the page you're on or disrupting your workflow. To begin, simply click the Timer ("   ") icon from the main app bar.

You can pause and restart the Timer by clicking on it. If you don't pause the timer, it will continue to track time even when you sign out of Kantata OX, change browsers, or switch devices.
Users with Punch Clock account permissions are only able to start the Timer. They then must log any accumulated time against a Project and Task before they can restart the timer.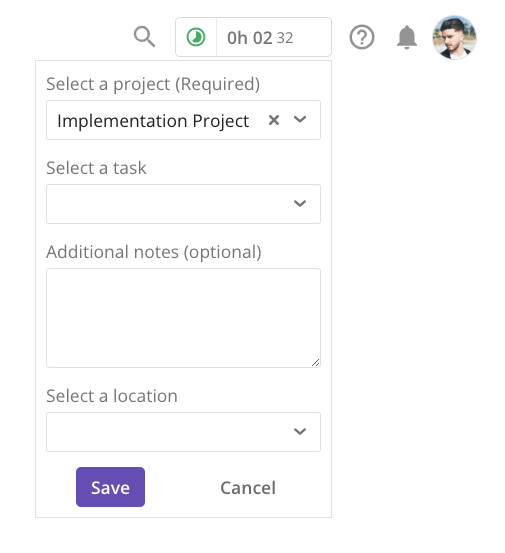 If you're on the go, you can also access the Timer from your mobile device.
Using the Time Entry Form
Click the Track Time button to open the Time Entry form. If you've already started the Timer, you'll need to hover over the time—hours, minutes, seconds—to see the button.

In the Time Entry form, begin by selecting the Project against which you are tracking time. Selecting a Task is optional unless your Account Settings require that time entries be tracked against a specific task, deliverable, milestone, or issue. Selecting a Location is also optional unless your Time & Expense Settings or individual Account Member settings require a location when tracking time. The Location field won't appear until after one or more active locations have been added to the account.
To manually enter time, click the Calendar ("  ") icon and select the date of the time entry. In the Duration field, enter the time—longer than one minute, but less than 24 hours—using 'h' for hours and 'm' for minutes (for example, 7h 45m).
After you select a Project, you'll notice that the appropriate Role, project billability, and Rate (only editable for users with Edit Financials permission or higher for the selected project) are automatically populated. Click on any of these fields to add or edit information.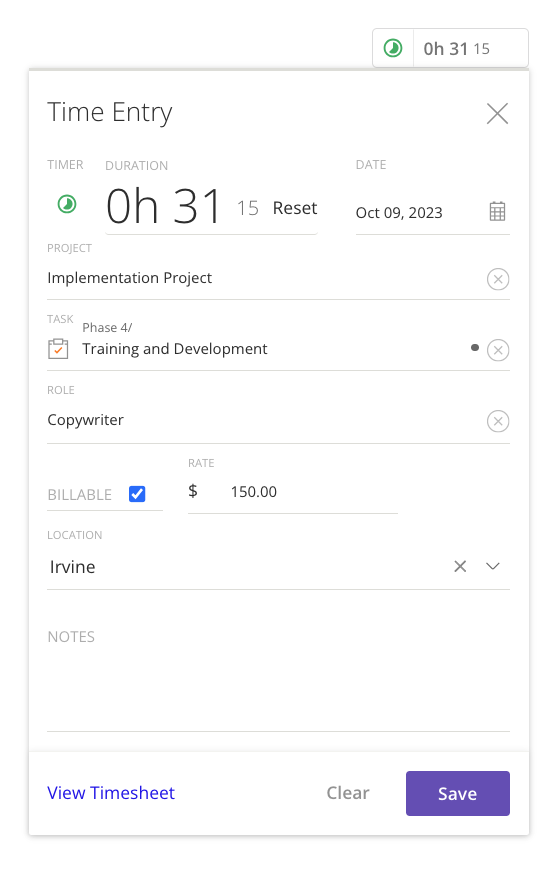 If you haven't clicked Save, any information on the Time Entry form will be retained if you log out of Kantata OX, move about the application, or even close the browser. However, if you switch to another browser or device, only the Duration and Date will carry over.
Click Reset to the restart the Timer or click Clear to remove all information from the form.
Note
: The
Time Entry
form is unavailable for users with
Punch Clock
account permissions.
Related Articles