Company Name & Address
Your main company name and address is used on billing statements and is the default for custom branding and invoices.
Note
: If your company has offices around the world, members have the option to specify different regions or geographic locations in their
Profile
.

Auto Archive Projects
With this setting, you can automatically archive projects with no activity after a specified number of months. Projects can be archived after 1 to 12 months; alternatively, you can turn off automatic archiving by selecting Never auto-archive from the drop-down menu.

Customized Team Names
Each time an account member creates a project, these custom team names are used. You can also customize team names on a per project basis. Changing a team name only applies to new projects going forward.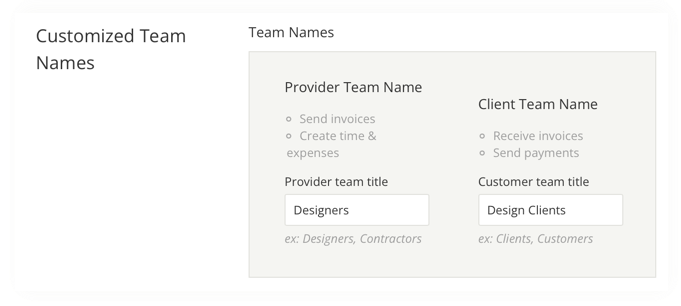 Team Names
Provider Team Name—Provide the default name for the team that can send invoices and create time and expenses. Some general examples are Consultants, Designers, Contractors, and Providers (default).
Client Team Name—Provide the default name for the team that can receive invoices and send payments; common examples are Clients (default) and Customers.
Privacy Mode
These settings allow you to set the default level of privacy required for projects. Project creators have the option to override these settings on a project-by-project basis.
Project Posts
Private by default—Select this option if you want all project postings to be private by default. Project participants need to specify a list of recipients when posting messages to the project.
Public to all project participants by default—Select this option if you want all project postings to be shared with all project participants by default. The option to send a private message is available, but not as the default option.
Project Participants
This setting gives Account Administrators more control over who can be invited to the Provider team in a project. By default, anyone can be invited to a project in Kantata OX. If you want only your Account Members to participate in your projects, you can adjust this setting to Account Members Only. This ensures that your project participants are always official members of your account so that you can track their project activity, control their permission levels, and have access to your projects. This also prevents participants from being created outside of your account.
Open—Anyone can be invited to the Provider or Client side of a project.
Account Members Only (recommended)—Only account members can participate in the project as Providers. However, anyone can be invited to the Client side of the project.
Project Access
Invitation Only—You need to invite each member to a project.
Open to Admin Only—Open to Account Administrators in your organization; everybody else must be invited.
Open to Organization Members—Projects are open to everyone in the organization.

Resource Scheduling
(Premier Feature)

Sync Resource Schedules With Project Dates—When this setting is enabled, changes made to the Start and/or Due dates of a Task, Deliverable, or Milestone will automatically shift the Scheduled Hours for every team member (assigned to the task) to match.

A member's Scheduled Hours are only shifted when the following conditions are met:

Task changes are made via the Local Gantt chart or Task Tracker when the Cascade Changes setting is enabled.
The status of the task must be Not Started.
The task being shifted has no current time entries (i.e., Logged Time in Gantt).
The task must have the same Duration (e.g., 14 days) before and after the shift.

Note: Tasks that were previously scheduled to start or end on weekends will be shifted to weekdays, and the task duration will adjust accordingly.

Note: Scheduled hour changes are processed once every minute in order to combine them with additional scheduled hours changes made at the same time.
Only make roles on the rate card available to projects—If you are using Rate Cards and this setting is disabled, then all account Roles will be available for a project and the default rate will apply to every Role without a rate.
Cascade Changes
When this setting is enabled, the Cascade Changes option is On by default when a team member first accesses the Task Tracker. Please note that team members will still maintain the ability to turn this option On or Off on a project-by-project basis.

Legacy Task Tracker
With this setting, you can choose to remove the legacy Task Tracker from your account. To do so, uncheck the Enable Legacy Task Tracker box. If you need to reactivate the legacy Task Tracker once it's been removed, you'll need to contact your Customer Success Manager (CSM).

Email Settings
With these settings, you can turn off the Week Ahead Email for your entire account. These settings can only be applied to your account; however, you can prohibit tasks from projects on your account from being included in an external user's weekly emails.

These two options work independently of one another:
Turn on Week Ahead Emails for Account Members—Disabling this option will prevent all users on this account from receiving the Week Ahead email. In addition, the Week Ahead Email options in a user's Email Settings on this account will no longer be accessible.
Allow tasks from this account to appear in external users' Week Ahead emails—When enabled, tasks from projects on your account will be included in an external client or provider's Week Ahead email, provided they have been assigned those tasks. Keep in mind that if the Week Ahead Email has been disabled by the Account Administrator on the external user's account, they will not receive any weekly update emails whatsoever.
Project Colors
When Project Colors are enabled, you can assign individual colors to each project to make them more recognizable in Resource Center and the Project List. The default color names can be changed to represent project types, phases, clients, etc.
To configure Project Colors, click the Enable Project Colors checkbox; a table with settings and available colors will appear.
In the Name column, you can update the name of the color to a more descriptive label for your use case. If you don't provide a name, the label will default to the original color name (e.g. Red, Orange, etc.).
In the Default column, select the color to assign all new projects in your account.
In the Enable column, choose the colors to make available for use on projects.
The first time you enable Project Colors, the selected Default color will be applied to all projects in your account. From this point on, if you want to change the color for specific projects, you can use the bulk actions feature in the Project List or update on a project-by-project basis from the Project Settings page.
When Project Colors are disabled, Kantata will use Blue ( ) as the default color in the Resource Center and colors will not appear in Project List.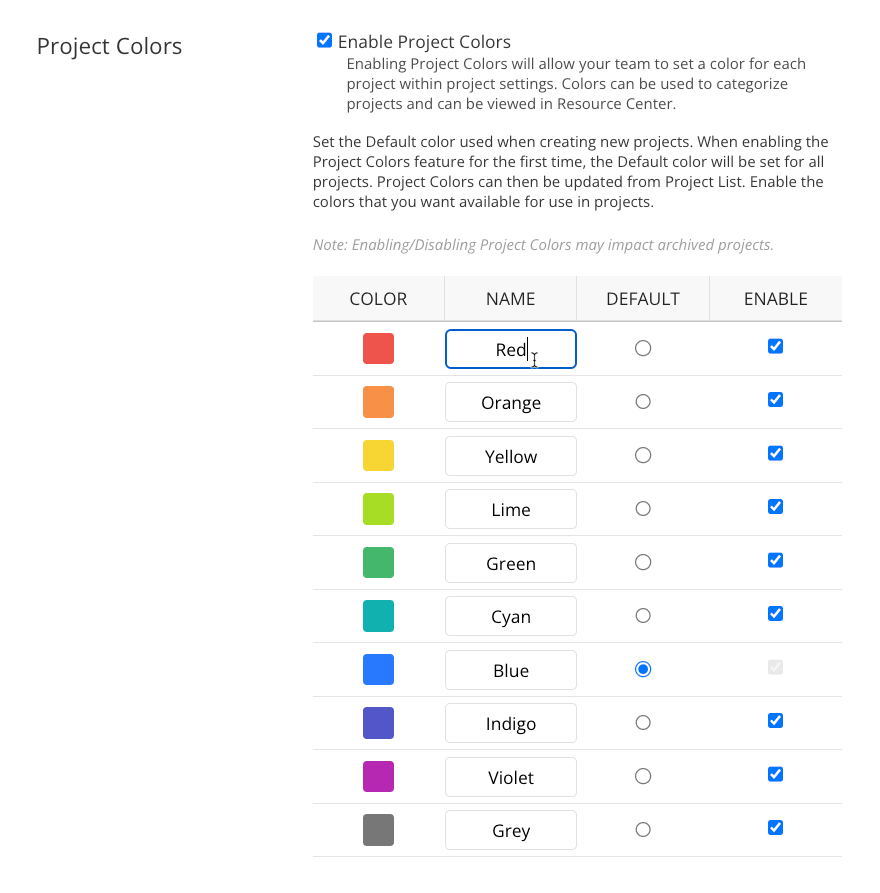 Project Statuses
Project statuses let you define and communicate the overall progress and/or health of projects. Each status has a label and a color that clearly communicates the condition of a project at a glance.
You can configure which statuses you would like to be unavailable for your projects by deselecting the checkboxes within each color tab.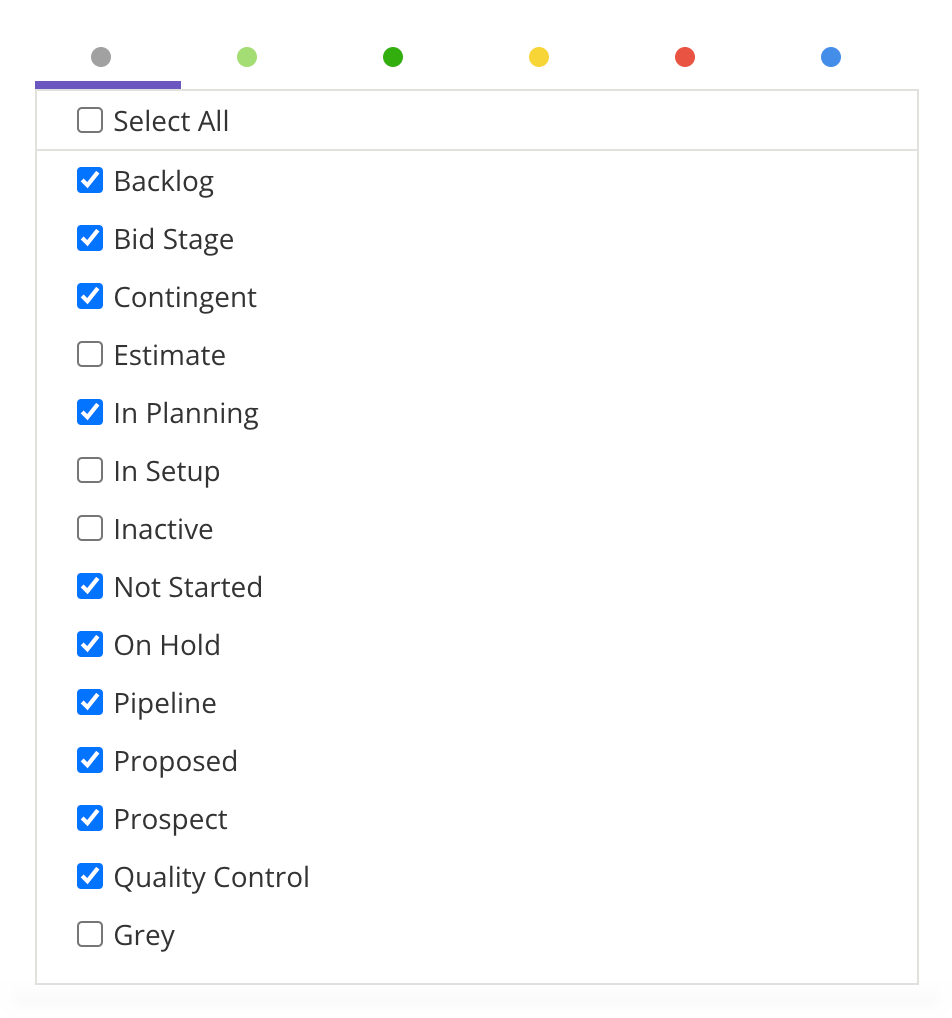 You can also choose which status you would like to be applied to newly created projects by selecting an option from the Default Status drop-down.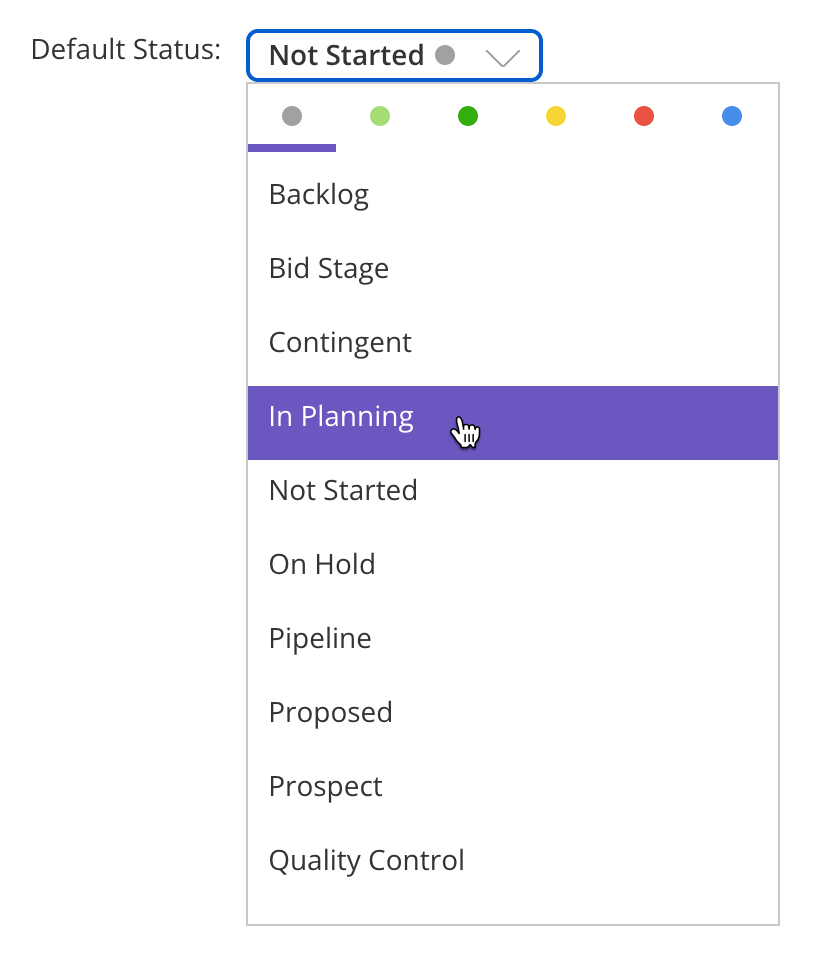 Project Pulse Side Panel
Available only for accounts that use Insights reports, this setting allows you to limit the character length of status descriptions for Health Reports in the Project Pulse side panel to 255 characters. Enabling this setting prevents users from entering descriptions that exceed the display limitations of classic and dynamic Insights dashboards.
Project To Dos
When enabled, the To-Do Board will appear as an option in the project workspace. In the To-Do Board, team members can create and edit project items that can be tracked separately from the project's WBS (Work Breakdown Structure).

Dashboard Widgets
When enabled, the Time and Utilization Tracking panel will appear on the dashboard for all users on this account. This panel provides three sections of important metrics, giving your members instant visibility into how they're performing against their billable utilization goals and time targets.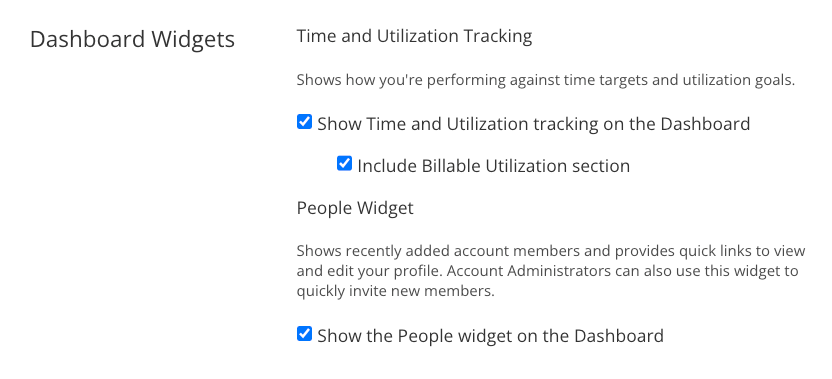 Show Time and Utilization tracking on the Dashboard—Enable or disable the entire Time and Utilization Tracking panel. Disabling the panel will also deactivate the Billable Utilization metrics, if enabled.
Include Billable Utilization information—Enable or disable the Billable Utilization section containing billable utilization metrics for users on this account. This section cannot be activated if the Time and Utilization Tracking panel is disabled.
Custom Branding
Customize Kantata OX to match the look and feel of your company's branding. You can replace the Kantata logo in the upper-left corner with your own and use your brand colors for links, buttons, and the left navigation. You can also configure custom navigation links, provide a new favicon, customize your subdomain, provide a support URL, personalized login message, business name, and more.


Clicking the Set it up button takes you to Settings > Custom Branding. For more information on how to set up custom branding, please see our Custom Branding Overview article.