Available in: All Plans
Overview
Each user that joins a project is assigned individual Project-level permissions that determine what they are able to do and access within a project. The Project Permissions page provides an intuitive interface for project administrators to control project access.

The initial Project Permissions that each member is automatically assigned are based on their current Account-level permissions. However, you can map different project defaults for each Account Permission level—both on the Provider and Client side of the project—using Project Permissions Defaults. This way, you can ensure that members join a project with the proper access and permissions every time.
You can adjust your team member's privileges on a project-by-project basis by clicking the Actions (" ") icon at the top of a project workspace and then selecting Project Permissions.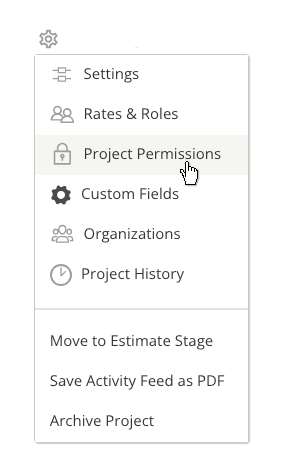 If you're a Project Administrator, you can adjust permissions for each member by selecting different Project Permissions and Additional Access from the respective drop-down menus.
Note: Users with Report Viewer (or higher) account permissions that create a project are automatically granted Project Administrator privileges. Users with Account Administrator account permissions cannot be granted lower project access than Project Administrator to any projects they are participating in.
Project Permissions Page
At the top of the Project Permissions page, you'll see the Providers and Clients tabs. You can quickly switch back and forth between the two tabs to perform actions for either the provider or client side of the project, such as adjusting permission levels and editing any additional access permissions.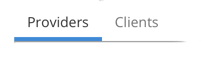 Note: The Providers and Clients tab may have different names if you have set up custom team names.
You can search for a specific team member by their name in the Search field.

You can add a user to the Provider side of the project by clicking the Add Team Member drop-down in the top-right corner and selecting the account member you want to add to your project team.

When you perform an action on this page—such as changing a participant's permission level or adding an additional permission—the Save button in the top-right corner will become active. To apply any changes, click Save. If you want to undo all changes you've made on this page and go back to the original permission settings since the last time you saved, click Revert.

To open the User Details side panel for a specific user, click their profile picture in the Team Member column.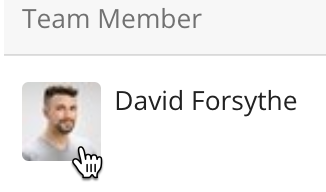 Team Lead
Click the Team Lead radio button to designate the Team Lead for the Client and Provider side of each project. Team Leads can be anyone in the project, not just Project Administrators. By default, their name and address will appear on invoices and other project information.

Project Permission Levels
Each Project Permission name indicates the areas of the project workspace that the team member has access to.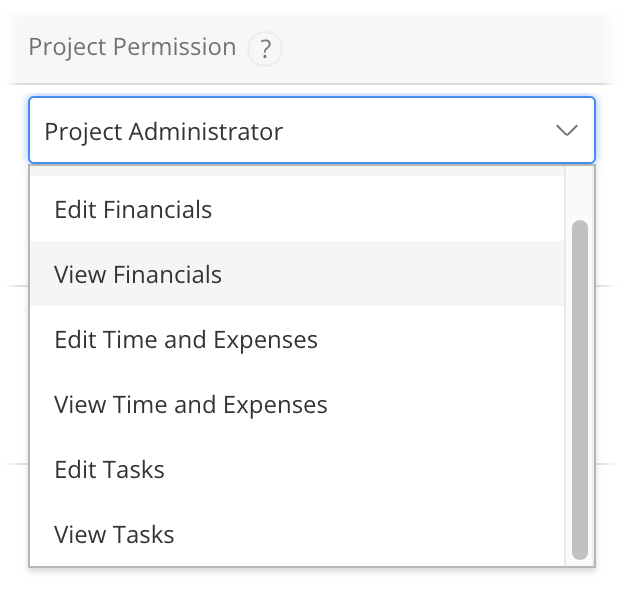 Note
: Users on the
Client
side of a project may have further restrictions to permissions, especially if they are an
External Project Participant
—meaning that they are not a member of your Kantata OX account and have access only to the project that they are invited to.
A Project Administrator can view and edit all information in a project, as well as change permissions for other users, update milestone weights, and modify project information and settings. Users with this permission level also have access to all Additional Access permissions.
Note: Keep in mind that Project Administrators cannot change their own project permission level, the permission level of the Project Administrator who created the project, or the permission level of users with Account Administrator account permissions and this access cannot be removed.
All lower project permission levels are either able to view or edit project and task information.
Note
: Based on account permissions, users with lower permissions than
View Financials
or
Edit Financials
may be able to approve or reject time entries. For more information, see
Time Approvals
.
View Permissions
Users with the respective view permission can complete the following actions in a project:
Edit Permissions
Users with the respective edit permissions can complete the following actions in a project:
Additional Access
For more granular control over how team members interact with a project, the Additional Access column allows you to assign extra permissions to your team members—with the exception of Project Administrators, who have all of these permissions by default.
For example, if a member has the View Tasks project permission but you want them to also be able to invite users to a project, you would select Invite Members to Project.

To give a team member additional project access, click the Additional Access drop-down arrow and then select each desired option. Each option appears in the Additional Access field above as you add them.

Note: The available options in the drop-down menu may vary depending on the member's project permission level.
To remove a singular permission, click the Remove ("   ") icon to the right of the permission.

If you want to remove all additional access permissions at once for a specific team member, click the Remove ("   ") icon in their Additional Access field.

Actions
Click the More ("   ") icon in-line with a team member to either remove them from the project or move them to the Provider or Client side of the project.

Translating the Legacy Project Permissions to New Project Permissions
The Project Permissions give project participants the same abilities they had before but provide more clarity and better project access control for Account Administrators. To help you figure out which new permission levels your participants should be assigned based on their legacy Project Permissions, please refer to the chart and comparison scenarios below:
| | | |
| --- | --- | --- |
| Legacy Project Permissions |   | New Project Permissions |
| Administrator | > | Project Administrator |
| Financials (Default) | > | Edit Financials |
| Financials (View Only) | > | View Financials |
| Time & Expense (Default) | > | Edit Time and Expenses |
| Time & Expense (View Only) | > | View Time and Expenses |
| Contributor (Default) | > | Edit Tasks |
| Contributor (View Only) | > | View Tasks |
In our legacy Project Permissions scenario, each project participant represents a single project permission level: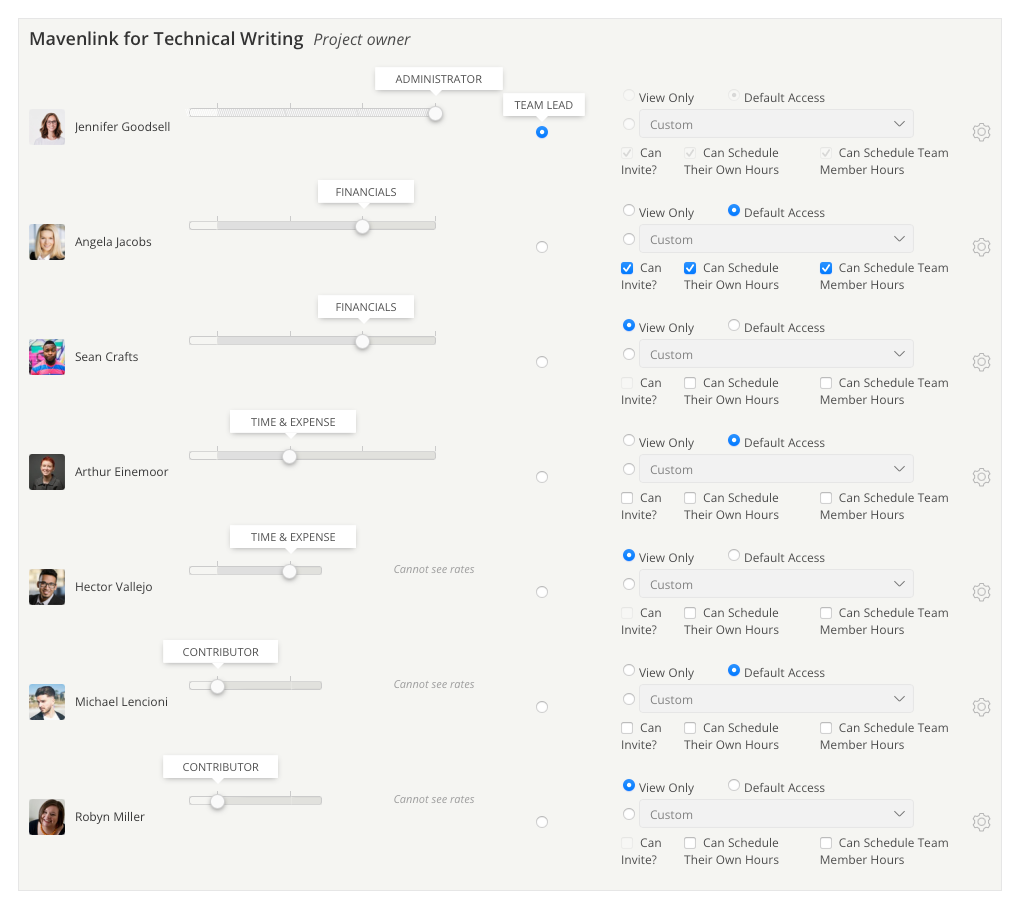 In our new scenario, the participants have Project Permission and Additional Access options that mirror the legacy Project Permissions scenario levels.

If you have any questions about the new Project Permissions functionality, reach out to Kantata Support.
Related Articles