NOTE
Some features mentioned in this article are only available on the Enterprise and Premier plans; additionally, some functionality is only available to certain project permission levels or access groups. To see information about plans, permissions, and access groups for each feature, reference the linked article.
Overview
Estimation occurs prior to the start of a project to ensure that you have the time and resources necessary to be successful. When you estimate within the project workspace, you can eliminate the headache of duplicate work and stop juggling multiple tools. This gives you all the flexibility of working in a project while still allowing the separation you need during the Estimate stage.

Estimating within a project allows you to:
Define scope—Build more concise estimates by building out the work breakdown structure (WBS)
Determine work effort and staffing—Compare your resource demand to your resource capacity much sooner in the project life cycle
Fine-tune financials—Quickly summarize the fees and financial breakdown—no matter how detailed your project estimate is—then make adjustments to hit your target budget for cost and hours
Share proposal—Copy the financial summary to use in client proposals
Begin work—Once an estimate is built out and the opportunity has been won, launch the project with the click of a button
Estimating within a project in Kantata OX allows you to leverage Kantata's entire project management tool set—including Resource Center, our interactive and flexible resource management tool, and Insights, our powerful business intelligence solution. Reduce redundancy, centralize all your project data in one tool, and increase visibility into scope and staffing.
TIP
To optimize the estimating process, be sure to do the following:
Create and

share

a unique Estimates view in Task Tracker that shows all the information that is important during the Estimate stage of a project.

List of recommended columns for the Estimate stage

Assignees
Task Budget
Due Date
Estimated Cost
Estimated Fees
Resource Estimated Hours
Start Date
Task Est. Hours

Use templates to help you quickly create project plans. We recommend optimizing your templates so that they include appropriate resources and estimated effort.
Set up custom rate cards to give you more control around billing roles and rates and allow you to see how different setups will affect your estimate's financial projections.
Define Scope
Before you can build your estimate, you need to determine the scope of your project, which can include the project's goals and constraints, as well as the time you'll have to spend on each phase or deliverable. When ready, you can create the project and select the Start project in Estimate stage toggle to indicate that it should be in the Estimate stage.

Next, you'll want to build out the work breakdown structure for your project. Depending on the process that works best for your organization, you can create the tasks directly in Task Tracker or apply a relevant template that has the tasks, resources, assignments, and task estimated hours and budgets you need for your estimate. Be sure to add start and due dates for each task.
Determine Work Effort and Staffing
In this phase, you need to determine the resources needed for each task and estimate the amount of time and effort it will take to complete work. Some of that information may already be completed if you used a template to define the scope.
Adding unnamed resources to act as placeholders for the various roles in the project can help you figure out who to staff based on the availability or skills needed to perform work. Entering predefined roles makes it easier to model margins and compare staff options.
You can leverage the Resource Estimated Hours column in Task Tracker to estimate the amount of effort needed per resource on a task:

Once you've determined the resources and estimated hours for each task, you can use the Create Allocations button in Summary Bar to automatically turn resource estimated hours into soft allocations. This will help your resource managers to anticipate future staffing needs.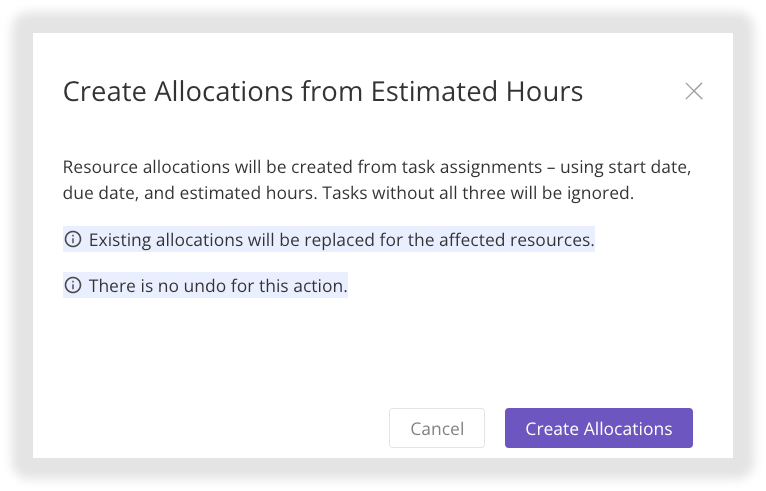 As soon as your opportunity reaches a high level of confidence of closing, you can go to the Resource Center or the Resourcing tab in the project and begin staffing the project. This will help you lock in resources and timelines when you are ready to commit. Use Team Builder to see who is available to meet resource demand and fill positions based on role, skills, availability, and other criteria.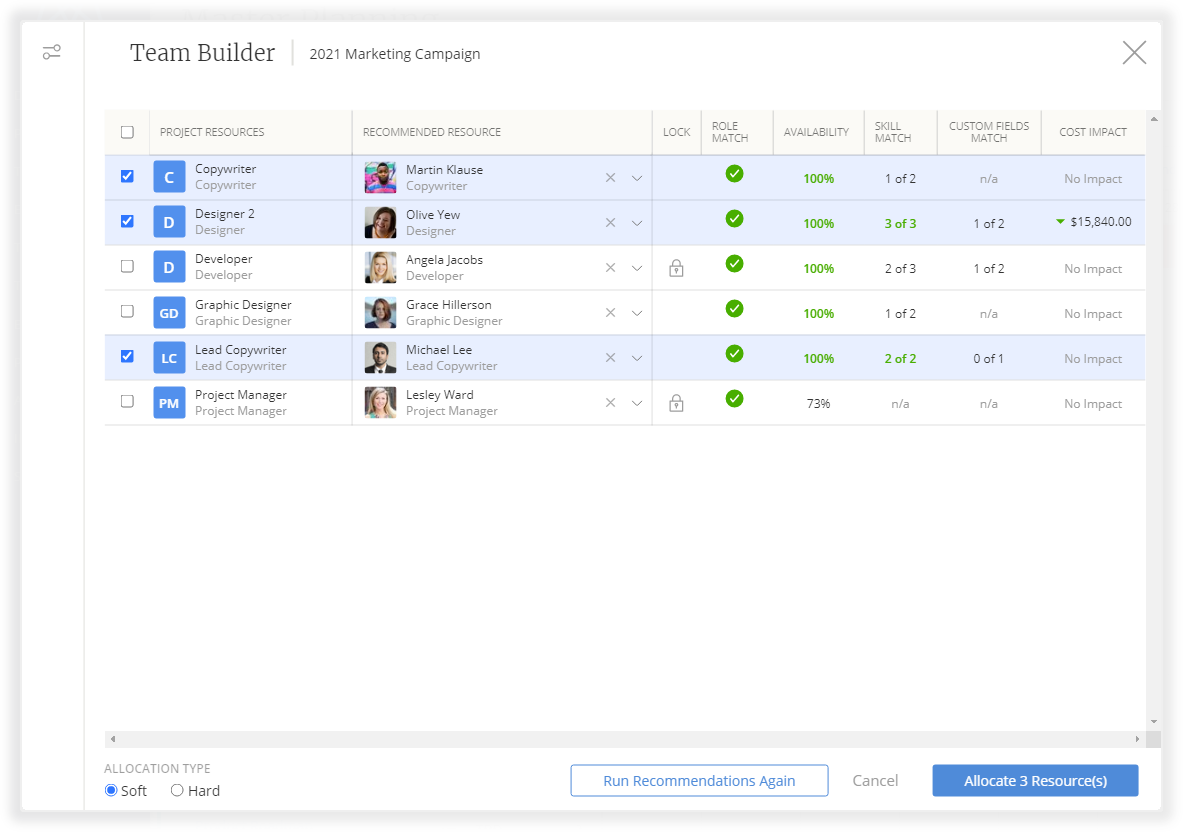 Fine-Tune Financials
Building an estimate directly in the project eliminates the guesswork necessary to make accurate financial projections for future projects. As you're estimating, you can see information about the estimated fees, cost, and margin in the following places:
Summary Bar—Found at the bottom of the Task Tracker, the Summary Bar shows you an overall summary of estimated hours, cost, fees, and other information in the project that updates in real-time as you make changes.
Estimated Cost and Estimated Fees—You can add these columns to your view in Task Tracker to get a quick look at the estimated costs and fees for each task.
Overview—The tables on the project Overview tab give you a quick look at the estimated fees, cost, margin, and other information per resource or per top-level task.
With the Update Estimates option in the Summary Bar, you can keep task budgets and task estimated hours in sync with estimated fees and resource estimated hours as you assign resources to tasks, enter resource estimated hours, and build out the estimate. Whether you're billing by time and materials or fixed fee, it's simple to sync your estimated fees to the task budgets, and then adjust the budgets to your desired amounts where needed.
As you make adjustments to rate cards, resource hours, tasks, and more, the values in the Summary Bar will update in real-time—you'll see the estimated costs, estimated fees, estimated margin, and more change and see how those numbers affect your target budget. Making these adjustments allows you to see how different options affect your cost and margin.

Share Proposal
When you are ready to send your proposal to a client, you can copy or export the financial summary from the Overview tab—rolled up by resource or by top-level task. 

Begin Work
Once the proposal has been accepted, you can take a snapshot of the estimate to capture the original plan for future reference and comparison. The current financials, hours, timeline, and other information will be saved.
Then click the Start Project button on the Summary Bar—this will signal to everyone that the estimate is complete. All the data you entered during the Estimate stage—tasks, hours, budget, etc.—will be retained in the Project stage.

Note
: If needed, you can return the project to the Estimate stage by selecting
Move to Estimate Stage
from the project actions menu.
If you haven't done so yet, now is the time to staff your project. As staffing plans are solidified and people are committed to the project, you can change soft allocations to hard allocations. Hard allocations signal to other project managers that members are confirmed for your project.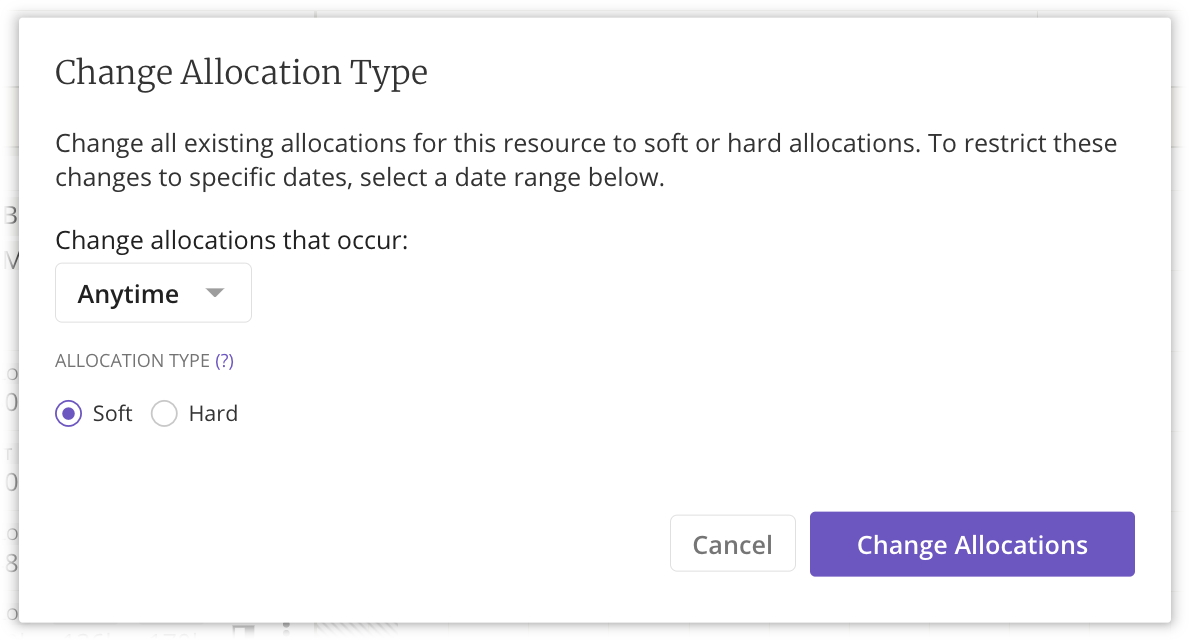 At this point, you can also create scheduled hours based on resource estimated hours. This shortcut automatically creates scheduled hours between the start and end date of each task and respects each resource's current capacity, giving the project manager a realistic view of how much time it will take the assignee to complete the task.