Overview
The robust Billing functionality in Kantata OX helps you get paid faster. You're able to invoice multiple times during a project's lifetime and also add fixed fee, time, and expense items all to the same invoice. Once you've settled on the payment schedule, payment type, and budget with your client, you're ready to start using Kantata's integrated billing services.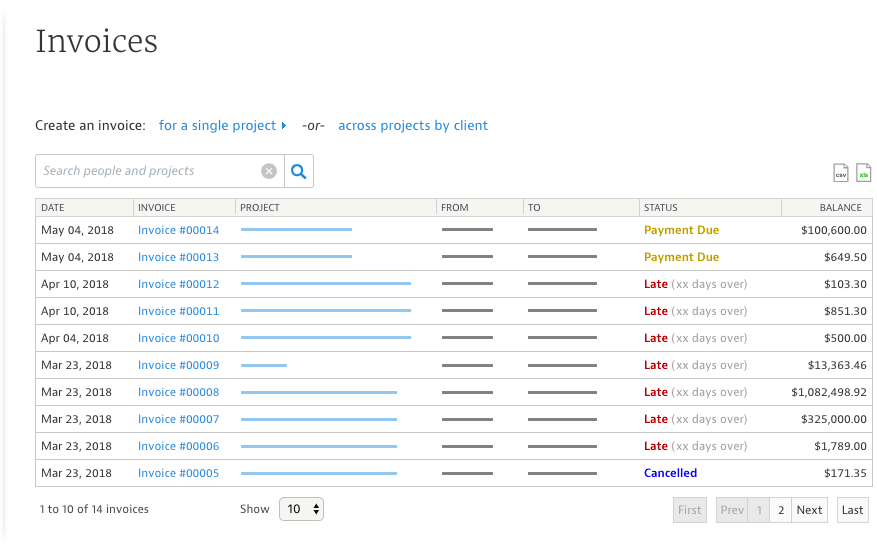 First, create all the billable fixed fee, time, and expenseitems for which you'd like to invoice. Once these have been created, you can choose to either generate and send invoices from within Kantata OX or export your billable items to QuickBooks and invoice there.
If you don't know what type of invoice you'll be creating, you can always set a Task, Deliverable, or Milestone to be Fixed Fee or Time & Materials and the time and expenses logged to those tasks will appear as the corresponding invoice type. Please note that once you've invoiced for a Fixed Fee item, you cannot change its billing type.
When adding new invoices, you can set additional billing and invoice preferences on a per-project basis, such as the project's currency type, your team's roles, billing and cost rates, burn rate calculations, and whether to enable change orders.
TIP
Kantata allows you to mark tasks and time as non-billable. Keeping track of your non-billable items is as important as your billable items because that's how you get accurate margins.
TIP
Margins are the lifeblood of any business; without them, your business can't grow. With the Margin & Cost Insights report in Kantata OX, it's not only easy to see your margins for Time & Materials projects, but also forecast future revenue using our Resource Center tool.
For more information on how to set up and generate invoices, please see our help article Invoices Overview.