ACCESS & AVAILABILITY
Insights reporting is available for Enterprise plans that meet the minimum user license requirement. To get started, please reach out to your Account Executive or Customer Success.
Overview
Data-driven decisions are essential to every successful business. You want to know not only the progress and profitability of projects but also whether your team is being used effectively and efficiently. With interactive reports and a powerful custom reporting engine, the Insights classic dashboards give you the visibility you need to make swift, informed decisions for projects and staffing.
Permissions for classic dashboards are determined by Insights Settings and classic Insights Access Groups. By default, Account Administrators have full View and Edit rights to all Insights dashboards. Report Viewers can also be given Edit rights through classic Insights Access Groups. Note that anyone with Edit rights will be able to see all of the data.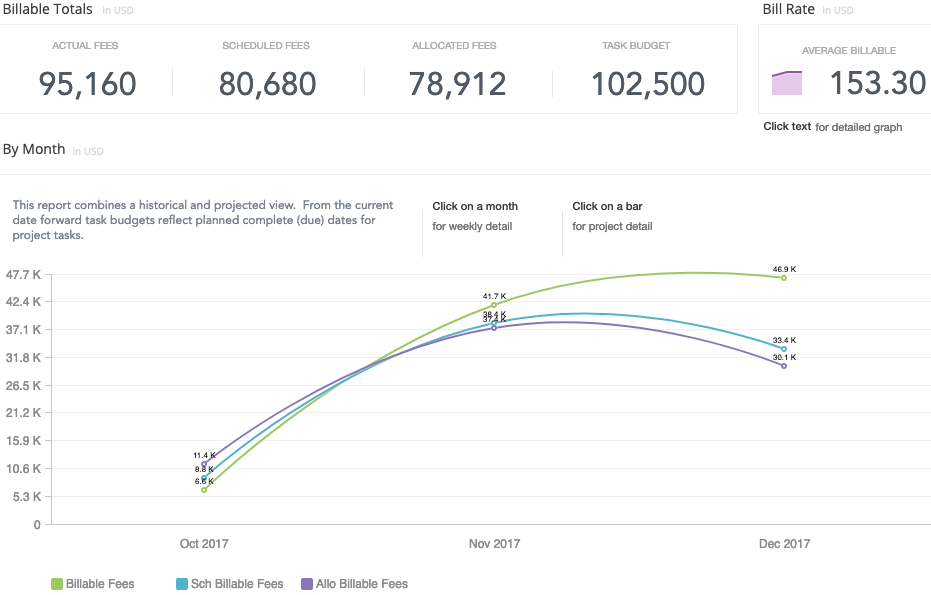 Standard Dashboards and Reports
Classic Insights comes with several standard dashboards that provide key information about the health of your company, projects, and employee productivity.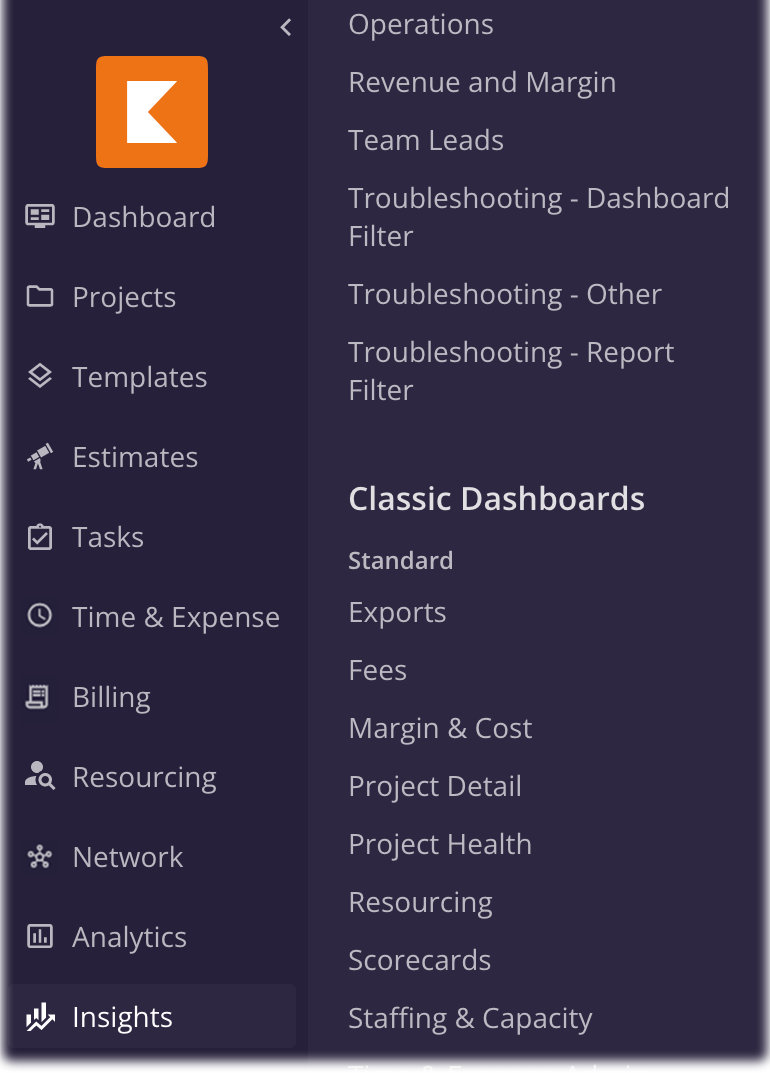 Tip
: You can control the sections that appear for you in the
Insights
menu in the left navigation via
Insights User Settings
.
Here's a breakdown of each dashboard, including their most popular tabs and intended audience.
Lets you download raw data for some of the most common types of data sets like Projects, Time Entries, and Invoices. You can download the data as is for a specified date range, or a specific date. You can also filter data sets and download only the data you need, such as specific projects, a member's approved time entries, and more.
Provides visibility into the global financial health of your projects. Get reports on Fixed Fees by Project and Fixed Fees by Task. The Global Fees helps you understand how conversion rates impact your business, while Effective Bill Rate reporting can help you spot abnormalities in bill rates. It is intended for project managers and executives.
Uses a variety of methods to calculate margins, such as the Project Budget Method, Resource Schedule Method, Resource Allocation Method, and Percent Complete Method. Each method is a tab for easy, quick reference. Other popular tabs include T&M Contribution Margin, and Fixed Fee Margin Contribution to Date. It is intended for CEOs and executives, as well as external stakeholders and investors.
Tells you the status of every task and deliverable across a portfolio of projects, and provides a comparative view of burn on projects, task status, priorities, and more. Its most popular tabs include Budgets vs. Actuals, Burndown, and Open Tasks. It is intended for project managers and project participants.
One of the most popular dashboards because it shows you which projects are at risk, and which are on track. Its most popular tabs include Portfolio Scoreboard, Project Health, and Estimated Revenue. It is intended for executives, portfolio owners, and project managers.
Provides visibility into allocations, scheduled hours, which resources are available to take on additional work and when. Useful for determining staffing needs, when you need to ramp up or redistribute your workforce. Its most popular tabs include Billable Capacity Forecasting, Daily Schedule, and Weekly Availability. It is intended for resource and traffic managers.
Perfect for contributors and project managers who don't need access to schedules or allocations; also for sharing project information with contractors or freelancers since no financial data is included. You get a high-level overview of a member's time, projects, and tasks. Its tabs include User Time Entry Scorecard, Project Manager Scorecard, and User Task Scorecard.
Goes hand-in-hand with Resource Center, and shows hard and soft allocations by user or by role. You can also see what unnamed resources are on projects. Its most popular tabs include Capacity, Allocations, Staffing Breakdown, and Capacity Scenario. It is intended for resource and traffic managers.
Tells you who has and has not logged time and expenses. Its most popular tabs include Time Audit Summary, Time Audit Detail, and Time Approvals by Project. Intended for project managers and team leads.
Another popular dashboard, it gives you complete visibility into how effectively your billable and non-billable resources are being used across your company. This dashboard takes workweeks and billability targets into account when calculating overall utilization. Its most popular tabs include Utilization by Month, All Actual Hours Breakdown, All Hours Compare, and Productive Utilization. It is intended for resource managers, managers, and directors.
See where revenue is coming from for both Time & Materials-based projects (calculated based on the user's actual logged hours and bill rate), and Fixed Fee projects. Its most popular tabs include Fees (Actual, Scheduled, and Allocated), By Resource and Role, and WIP and A/R. It is intended for project managers and executives.
[Legacy] KPI's
The Key Performance Indicator (KPI) dashboard tracks seven different metrics that show your company's actual performance over the last three months as well as the variance and trends of the last few months. Useful for improving the efficiency of your organization. The tracked KPI's are as follows: percent of projects delivered on time, percent of projects delivered on budget, billable utilization percent, margin with costs as incurred, days of sales outstanding (DSO), fees growth, and margin percent. Intended for CEOs and executives.
[Legacy] Recurring & Retainer
Provides visibility into monthly revenue. Fixed fee and retainer projects are included, based on the budgets and completion statuses of fixed fee tasks. Intended for project managers and finance/accounting departments.
[Legacy] Utilization
Gives you visibility into how billable and non-billable resources are being utilized across your organization. Intended for resource managers, managers, and directors.
TIP
While you cannot modify or delete standard dashboards, you can clone them. Once you have cloned a dashboard, you can customize it by adding or removing tabs, changing their order, changing filters, metrics, and attributes of reports, and more, to get the information you need, faster.
Home Tabs
Each standard dashboard has a Home tab that includes the following information:
A description of the dashboard.
A description of each tab that highlights the information or analysis the tab provides. These descriptions help you find the reports you need to support business decisions. Select the blue arrow ("

➤

") beside a tab name to navigate to that tab.

A list of Key Definitions of metrics and terms that appear throughout the dashboard. This section helps you understand the concepts presented in the dashboard.
Custom Dashboards and Reports
By default, Account Administrators can clone standard dashboards or create new ones. Facts, attributes, and metrics are the building blocks for new dashboards and are also necessary if you want to make changes to cloned standard dashboards. Each tells Insights specific pieces of information to fetch from Kantata OX.
Fact—The raw, numeric data elements that can be aggregated by metrics.
Attribute—The qualitative, categorical data that is used to aggregate reports; attributes are the how of reporting and are commonly used for dates, project, user IDs, etc.
Metric—The numerical values and calculations that appear in reports; metrics are the what of reporting and are commonly used for fees, actual hours, etc.
When editing a cloned dashboard, or creating your own, remember that What = metrics and How = attributes.


Use the facts, attributes, and metrics table to find the data you need to create dashboards and reports you want. For specific business needs, contact your Client Success Manager to learn more about building custom dashboards and reports with Insights.
What are Insights Dashboards?

All standard Insights dashboards follow the same format.
Title—Name of the dashboard, such as Utilization or Staffing & Capacity.
Data Refresh—The amount of time that has passed since the data in the dashboard was last updated. Click the Details button at the top of a dashboard to see more details about data refresh times. See the Insights Overview article for more information.
Data Access—The level of access you have to specific types of data in the report. This access level is set within the Insights Access Group set. For more information on data access, see Insights Overview.
Help—Quick access to helpful Knowledge Base articles that cover topics like building and editing dashboards and reports, granting permissions and access to Insights, scheduling email deliveries, setting individual user preferences for Insights, and working with metrics, attributes, and facts.

Tip

: To quickly access other articles, you can use the

in-app help

that is conveniently located on every page within Kantata OX.

Advanced—This option only appears if you have report edit permissions in classic Insights Access Groups.

Open the Advanced Editor—Opens the dashboard in the Advanced Editor, where you can edit the dashboard in a more focused view.
Open Report Editor—Opens the report editor in the Advanced Editor, where you can view and edit reports in a more focused view.
Open Data Model—Opens the Insights data model in the Advanced Editor. The data model provides an interactive visualization of the relationships between Kantata objects and their metrics, attributes, and facts. This can be used as a reference while building custom reports. Note that the data model may take a few minutes to load.

For more information on the Advanced Editor, see Insights Overview.

Tab Row—Subcategories of dashboards that contain one or more reports.
Unsaved View—When clicked, lets you save a specific view of a report.
Schedule ("

 

")—Send a recurring email of all tabs, or only selected tabs. See Insights Classic: Email Scheduling for more information.
Print ("

 

")—Prepares a PDF of selected tab to download/print.
Actions ("

 

")—Select to export the tab to a PDF or XLSX file.
Info

("  ")

—Direct link to more information.
The tab row often contains a number of different tabs, some of which might be hidden. You can navigate to them by clicking the right and left arrow buttons.
Filters Bar
Information in reports can be adjusted using filters found at the top of each tab. Filters move left to right, so if you filter by Manager Name, for example, the User filter automatically adjusts to only show those members who are managed by that person.
Filters are relevant to the dashboard. For example, filters for tabs under the Scorecards dashboard relate to projects and members, letting you filter by role, skills, and more.

Filters for tabs under the Fees dashboard, however, include filters for financial information.

Filters are also persistent across dashboard tabs. For example, if you select a different currency in Fees (Actual, Scheduled and Allocated), it applies to all the other tabs in the Fees dashboard.
How to Use Reports
Each tab holds a variety of reports.
Headline Metrics—A rollup of key figures at the highest level (global level).
Graphs—A visual representation of historical and forecasted trends.
Tables—Provides more detailed, granular content of a report.
You can drill into data in headline metrics, graphs, and tables by hovering over the middle of the metric, graph or table, and selecting the More icon ("   ").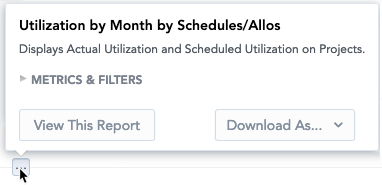 The More modal gives you additional information related to the report.
Metrics & Filters—Expand to see the complete list used to create the report, as well as definitions for the metrics used.
View This Report—Lets you change metrics (what), attributes (how), and filters, as well as select a different graphical representation. You can also save changes as different versions.
Download As…—Download the report as a PDF, PNG image, XLSX, CSV (formatted), or CSV (raw data).
In any table report, anything that shows an underline when you roll over with your mouse is clickable and gives you more detailed information. For example, you can select a User or Role to see a breakdown of hours by project.
Saved Views
You can create and save custom views from frequently-used dashboard filter settings; each saved view can be named and selected again at any time from the Views drop-down menu. Your currently-selected view is remembered the next time you visit the tab.