Edit classic Insights dashboards to make changes such as adding and removing reports, filters, tabs, and other elements. For dynamic dashboards, please visit the Using the Dynamic Dashboard Editor article.
 
User Permissions Needed: Account Administrator, Reports Viewer With Cost, Reports Viewer
Insights Permissions: Can Edit
How to Edit an Insights Dashboard
In the left navigation, hover over Insights, then select a Custom dashboard from the Classic Dashboards section.
On the dashboard, select the Settings ("

 

") icon, then select Edit.

Make your desired changes to the dashboard. You can add elements such as reports and filters via the Dashboard Edit Toolbar; move, resize, and remove elements; and add, edit, and remove tabs.
When you're done, click Save.

INFO
Only custom dashboards can be edited. To make changes to a standard dashboard, you must first clone the dashboard, then edit the clone.
Dashboard Edit Toolbar
The Dashboard Edit Toolbar lets you add elements to a dashboard.

Report—A searchable drop-down menu containing a list of all reports by category.
See the Add Reports to an Insights Dashboard article to learn how to add an existing report to a dashboard and the Create a New Insights Report article to learn how to add a new report to a dashboard.
Widget—Displays a single metric filtered by a date range you select. You can optionally include a trend graph beside the metric value.
Text—Creates a text box where you can add a headline, sub-headline, description, or a variable status such as Manage Filter and Target Utilization.
Line—Inserts a horizontal or vertical line to help break up and separate reports.
Web Content—Lets you insert links to secure web content and embed code such as iframes. Most commonly used to add styled text, backgrounds, icons, and images.
Filter—Add Attribute and Date filters to your reports. For more information about adding dashboard filters, please see the Add Filters to an Insights Dashboard article. You can also Group filters to allow viewers to select options from multiple filters before the reports on the dashboard are regenerated.
Actions—In Settings, you can give dashboard viewers the ability to save their filter selections using Saved Views.
Cancel—Cancel all your dashboard changes.
Save—Saves all your changes to the dashboard.
How to Move Elements
You can move the elements in a dashboard by dragging them.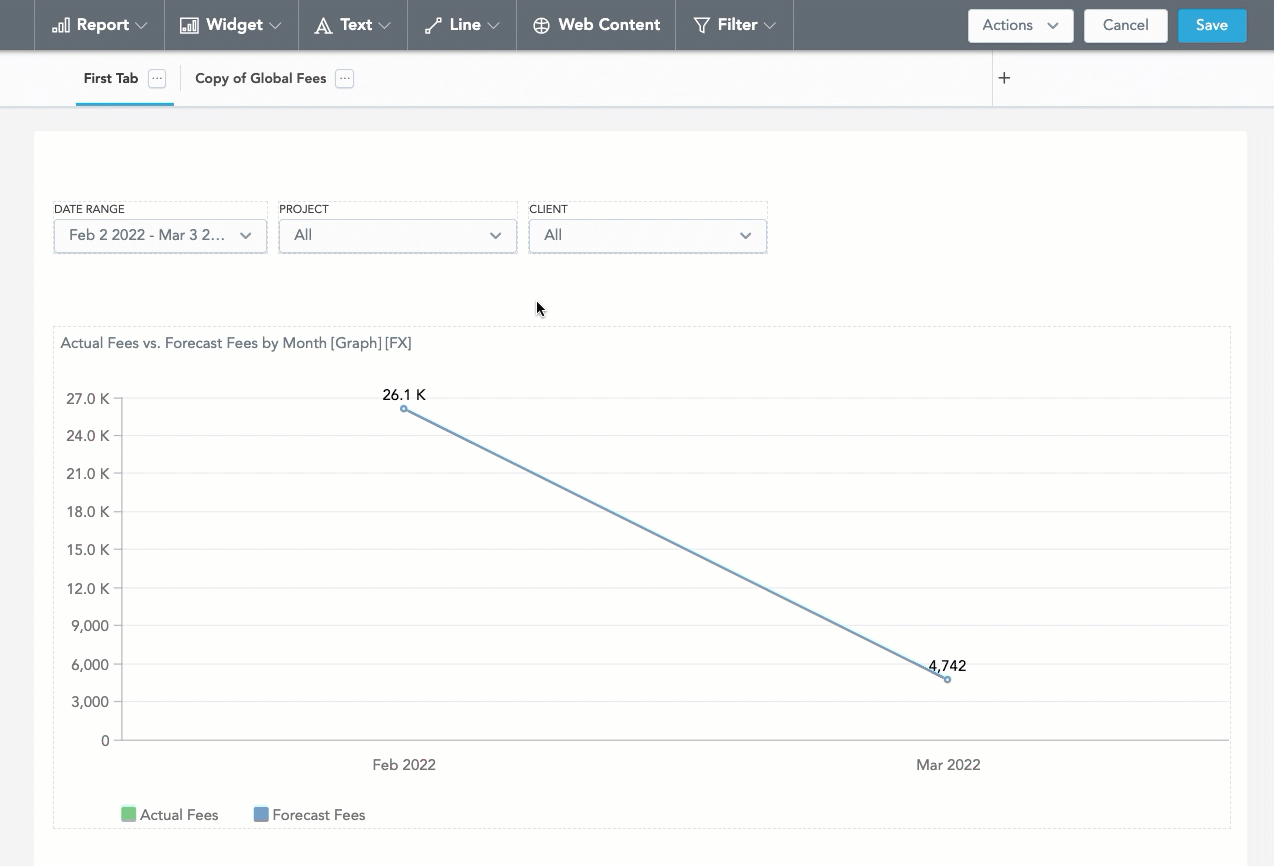 How to Resize Elements
To resize an element, click on the element, then use the blue squares to make it bigger or smaller.
You can also resize table columns. Click on the table, hover over the right border of the column header, then drag the border left or right.
TIP
Resizing a table while editing a dashboard resizes the table on that dashboard only. To resize a table on all the dashboards where it hasn't already been resized, please see the How to Resize Columns section in the Editing Tables in Insights article.
How to Remove Elements
Select the element you'd like to remove, then select the Delete ("   ") icon.

INFO
When you remove a report from a dashboard, the report itself isn't deleted and can still be added to other dashboards. To learn how to permanently delete a report, please see the Delete an Insights Report article.
How to Add and Edit Dashboard Tabs
To add a new dashboard tab, select the Add a new tab button ("+") at the end of the tab row, then give the tab a name in the modal that appears.

To rename, duplicate, or delete a tab, select the More ("   ") icon next to the tab name, then select an option.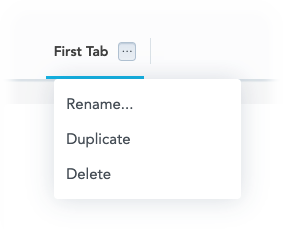 To rearrange tabs, drag them to your desired order.

Customizing a Cloned Insights Dashboard (Video)
When you clone a dashboard, you make a copy of its corresponding tabs and reports. Some common uses of a cloned dashboard include rearranging tabs, renaming tabs, and changing the content or reports to better fit your business needs.
Note: If you have specific business needs, please contact your Business Intelligence Consultant or Client Success Manager to learn more about building custom dashboards and reports with Insights.