Kantata expedites the time approval process by allowing you to give members with Edit Financials (or higher) project permissions the ability to approve time.
When designating a time approver, you should assign a member who has a comprehensive understanding of the work that is being tracked. For example:
If a user tracks time across multiple projects, their Manager may have a better understanding of the work they are doing.
If a user is tracking time against a single project, then the Team Lead may be the best person to approve time. This is because the Team Lead is generally also the Project Manager and these individuals commonly understand the project requirements.
When time is submitted, the designated approver(s) can select the Your Approvals box in Time Approvals to view all time that they are responsible for reviewing.
Note
: Time can't be submitted until you've enabled the
Time entries must be approved before invoicing
in a project's
Settings
.


If you don't designate a time approver, anyone in the project with Edit Financials permissions (or higher) will still receive a notification and can take action when time is submitted. 
Backup approvers can also be designated to approve time during a specified date range, in the event the original approver is out of the office.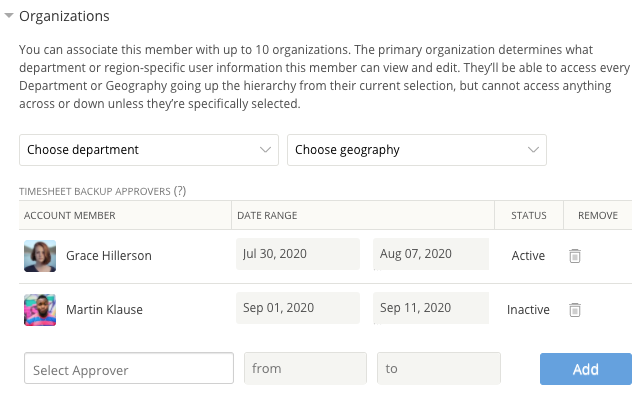 This article will discuss the two different methods of designating time approvers:
Manager approves time—Automatically adds an account member's Manager to a project once the member clicks Submit for Approval on a timesheet.
Project participant approves time—Allows you to designate up to 25 users to approve time for a project. Having more than one person responsible for time approvals guarantees that your workflow won't grind to a halt if a designated approver is unavailable.
How to Designate Time Approval to a Manager
Hover over Settings in the left navigation and select Members.
On the Account Members page, select the member for whom you'd like to assign a Manager to approve time.
In the Account Member Details side panel, select the Organizations tab.

Select an option from the Manager drop-down menu.

Note: Managers must have Report Viewer (or higher) permissions because they have access to the Your Approvals checkbox in Timesheets and Analytics Reports.

Select the Manager Approves Time checkbox.

How to Designate Time Approval to Project Participants
Hover over Projects in the left navigation and select a project. 
In the project workspace, click the Actions icon  ("

 

") located to the right of the project name and select Settings. 

On the Project Settings page, scroll down to the Approvals section.

Note: If you don't see the Approvals section, make sure that the Time entries must be approved before invoicing setting is enabled in the Financials section.

Click the Select a designated approver field under Project Approver(s) and select a user from the drop-down menu.