Overview
Project statuses let you define and communicate the overall progress and/or health of projects. Each status has a label and a color that lets people see at a glance which stage a project is in.
Project statuses appear in many areas of Kantata OX, including the following: 
Note
: Project statuses are also available as filters in
Insights
dashboards (e.g. the
Project Health
 dashboard).
You can set a project status from the project workspace using the drop-down menu to the right of the project name. Within each color tab, you can select the color that most accurately represents the condition of the project.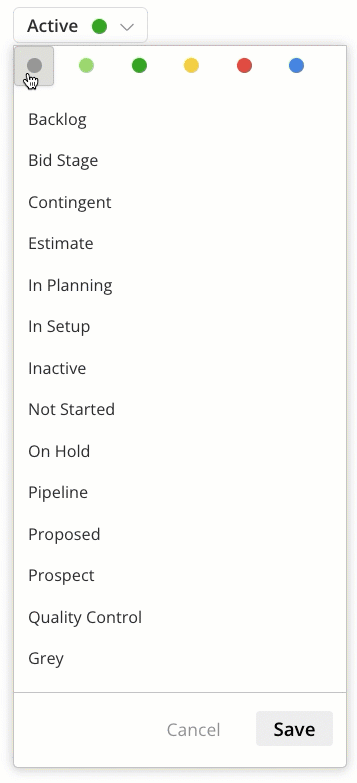 Note
: Project participants on either the provider or client side that have
enabled
Project Status Updated
notifications will receive a notification when the project status changes.
External project participants
on the client side will not receive a notification however.
You can set the status of multiple projects at once using bulk actions in the Project List. To learn more, see the Project List article.
Note
: Anyone with
edit Project Permissions
on the Provider side can see and set the project status, regardless of their account permission. Clients cannot see or set the project status.
The project color and their corresponding statuses are:
Gray—Not yet started

Light Green—Close to starting

Green—In progress

Yellow—In progress with a pending action

Red—In progress with a blocker or ended

Blue—Finished
Project Status List
This list of project color / status combinations and IDs is useful for clients with API integrations or for those who are using Kantata's Data Upload Tool to update project statuses. It can be used as a reference during integration configuration, data import, etc.
Note
: Depending on your
account settings
, all of the statuses below may not be available to select in the project workspace.
|   | Status | Color | Status ID |
| --- | --- | --- | --- |
| | Backlog | Gray | 100 |
| | Bid Stage | Gray | 105 |
| | Contingent | Gray | 107 |
| | Estimate | Gray | 110 |
| | In Planning | Gray | 115 |
| | In Setup | Gray | 120 |
| | Inactive | Gray | 125 |
| | Not Started | Gray | 130 |
| | On Hold | Gray | 135 |
| | Pipeline | Gray | 138 |
| | Proposed | Gray | 140 |
| | Prospect | Gray | 143 |
| | Quality Control | Gray | 145 |
| | Gray | Gray | 150 |
| | Approved | Light Green | 200 |
| | Confirmed | Light Green | 205 |
| | Contingent | Light Green | 207 |
| | Okay to Start | Light Green | 210 |
| | Pending | Light Green | 213 |
| | Ready | Light Green | 215 |
| | Scheduled | Light Green | 220 |
| | Quality Control | Light Green | 225 |
| | Smart Start | Light Green | 234 |
| | Tech Setup | Light Green | 235 |
| | Light Green | Light Green | 250 |
| | Not Started | Light Green | 255 |
| | Active | Green | 300 |
| | In Development | Green | 305 |
| | In Progress | Green | 310 |
| | In Testing | Green | 315 |
| | Live | Green | 317 |
| | On Track | Green | 320 |
| | Ready for Testing | Green | 325 |
| | Started | Green | 330 |
| | Quality Control | Green | 335 |
| | UAT | Green | 340 |
| | Green | Green | 350 |
| | Active | Yellow | 401 |
| | Alert | Yellow | 400 |
| | At Risk | Yellow | 403 |
| | Issue | Yellow | 405 |
| | Keep Watch | Yellow | 410 |
| | Late | Yellow | 415 |
| | Needs Review | Yellow | 420 |
| | On Hold | Yellow | 423 |
| | Over Budget | Yellow | 425 |
| | Past Due | Yellow | 430 |
| | Pending Approval | Yellow | 435 |
| | Priority | Yellow | 440 |
| | Requires Feedback | Yellow | 445 |
| | Requires Follow-up | Yellow | 450 |
| | Requires Research | Yellow | 455 |
| | Quality Control | Yellow | 459 |
| | UAT | Yellow | 465 |
| | Yellow | Yellow | 460 |
| | Active | Red | 501 |
| | Alert | Red | 500 |
| | Blocked | Red | 505 |
| | Canceled | Red | 510 |
| | Canceled - Change Order | Red | 513 |
| | Concern | Red | 515 |
| | Late Payment | Red | 520 |
| | On Hold | Red | 525 |
| | Suspended | Red | 530 |
| | Terminated | Red | 535 |
| | Rejected | Red | 540 |
| | Quality Control | Red | 545 |
| | UAT | Red | 555 |
| | Red | Red | 550 |
| | Canceled | Blue | 601 |
| | Canceled Confirmed | Blue | 602 |
| | Closed | Blue | 600 |
| | Completed | Blue | 605 |
| | Delivered | Blue | 610 |
| | Done | Blue | 615 |
| | Shipped | Blue | 620 |
| | Submitted | Blue | 625 |
| | Quality Control | Blue | 630 |
| | Blue | Blue | 650 |