Overview 
Located in a project's Activity tab, the Activity Feed displays communication, uploaded documents, and the latest updates within a project. There are numerous actions you can perform in the Activity Feed, such as:
Creating a post
Approving or rejecting timesheets
Marking invoices as paid
Linking files to a task
Replying to a post
Pinning a post
Tagging a team member
Filtering and sorting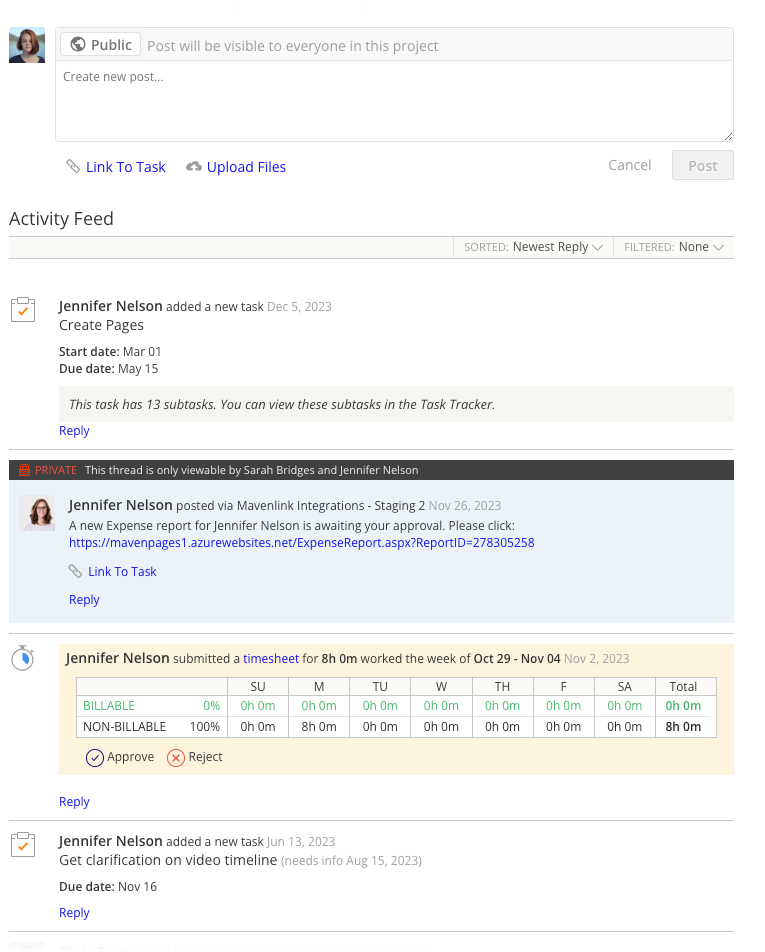 Creating a Post
You can quickly communicate with your team members by creating a post in the Activity Feed. For example, you can create a post to ask a question, provide a project update, upload a file, and more. Other members can then view and respond to your post, which promotes more team collaboration and transparency on how the project is doing. Alternatively, you can create a private post that will only be visible to you and the team member you tag by.
To create your post, type your message in the Create new post box. You also have the option to @mention a user, link to a task, and upload a file in the post.

If your project posts are public by default and you want to make the post private, click the Public button. The button changes to Private, and you can now select the users you'd like the post to be visible to.
If the post is Public, it will be visible to everyone in the project and notify all participants via email.
If the post is Private, you can choose who will see your post and receive an email notification.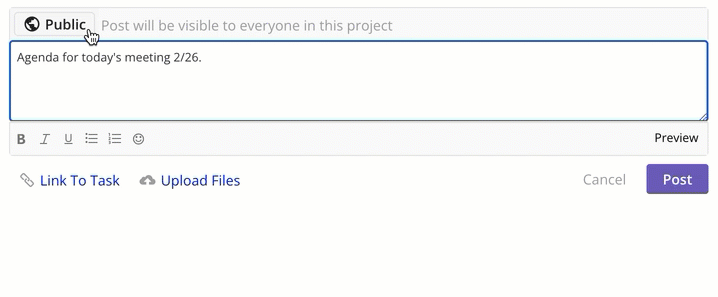 If you want to include bold, italics, lists, links, lines, and/or emojis, you can add markdown formatting to your text or use the text formatting options under the text field.

Editing, Deleting, or Pinning a Post
To edit or delete a post after it's created, hover over the post in the Activity Feed and click the Actions ("   ") icon. Alternatively, you can click the Pin ("   ") icon to make sure the post always remains pinned at the top of the Activity Feed.

Tagging and Replying
You can direct a message to a particular person using @mentions, where you type the "@" symbol followed by the person's name. Using an @mention will send the person you mentioned an email with your post. You can also type @all to notify and send emails to all project participants.
A member can reply to a post in the project workspace by clicking Reply or by responding to their project post email notification.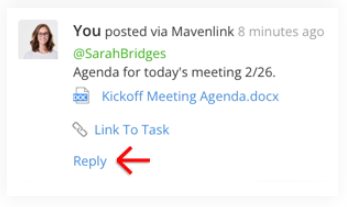 Managing Timesheets
Once a team member submits a timesheet for approval, it appears as a detailed post listing the total billable and non-billable (if enabled) hours for that workweek.

If you are an Account Administrator or manager responsible for entering time off for others–such as team members or direct reports—you can approve or reject the timesheet submission directly them from the feed.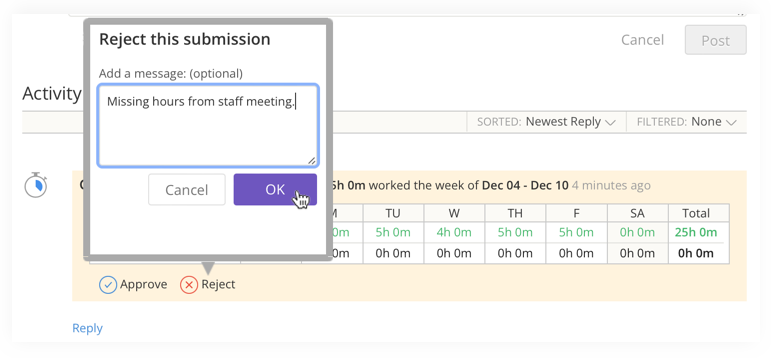 Managing Invoices
After a team member creates an invoice, a post displaying the invoice details appears in the Activity Feed. From here, team members with Project Lead account permission (or higher) can mark the invoice as paid, edit it, or cancel it.

You can click the invoice title link below the post to be taken to the invoice details page.

Uploading Files / Attaching Google Drive Files
You can upload a file and attach a Google Doc right from the project's Activity tab and post it to the Activity Feed. Keep in mind that if you uploaded a file to a private message, only users who have access to that message will be able to see and download the file.

All files and Google Drive files that you attach to a post can later be accessed in the Project Files tab.
Linking a Post to a Task
When uploading a file or associating a Google Doc to the Activity tab, a good rule of thumb is to link it to a task in your project's Task Tracker by clicking on Link to Task beneath your post and selecting the appropriate task. This helps your project participants know the attachment is for a specific task.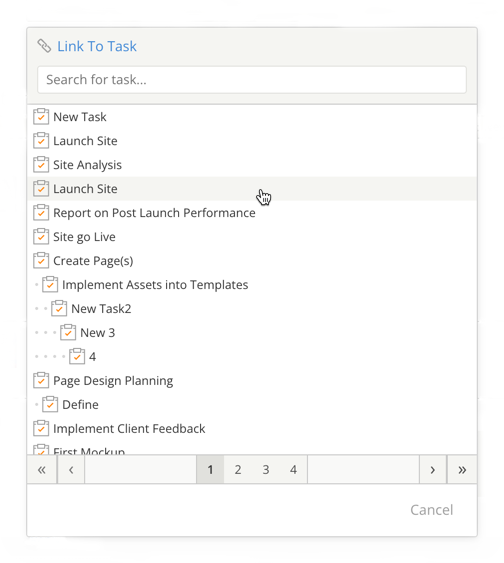 Sorting and Filtering Posts
When a project has a lot of posts in the Activity Feed, you can use the Sort and/or Filter options—located in the top-right corner of the feed—whenever you want to narrow down the list and quickly find a specific post.
Sort—You can sort Chronologically or by Newest Reply.
Filter—You can filter by Messages with attachments and Linked with deliverables.

If there aren't any posts that have attachments or are linked to deliverables, these options will be grayed out when you click the Filtered drop-down arrow.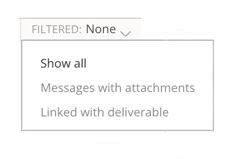 Related Articles