ALERT
On May 17, 2023, the Google Calendar and Google Tasks integrations were deactivated and removed from Kantata OX. We will continue to support the integration between Google Drive and Google Contacts and there will be no impact to them.
Overview
Google Workspace and Kantata are a perfect project management pair. With this integration, you can do the following:
Access your Google Drive and share files in any project workspace.
Invite anyone from your Google Contacts list into Kantata for collaboration.
Google Drive Integration
The Google Drive integration allows you to share Drive files anywhere you can make a post in the project.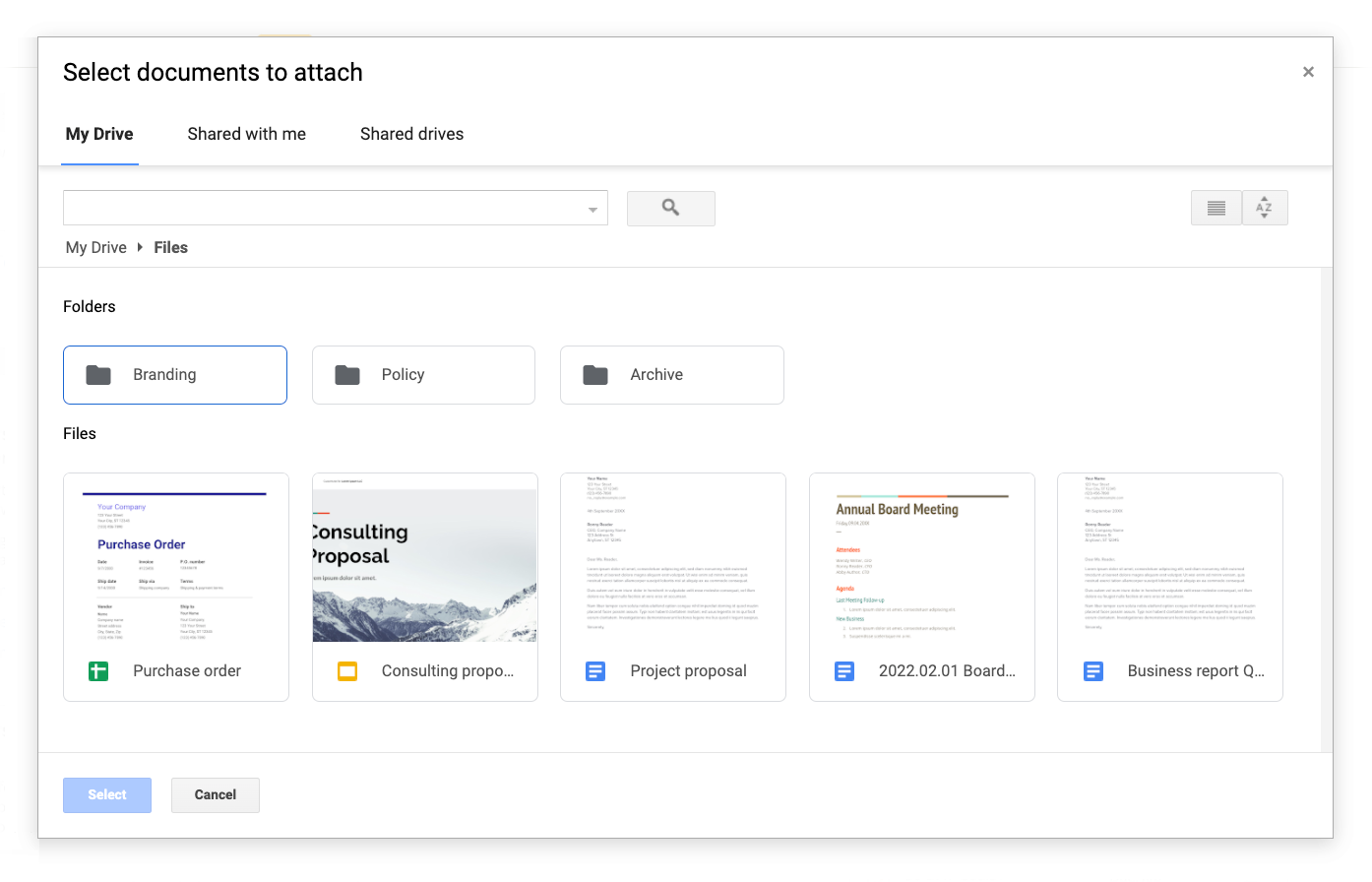 To learn how to use the Google Drive integration, please see the Navigate the Google Drive Integration article.
Google Contacts Integration
The Google Contacts integration allows you to select your Google Contacts when you invite users to projects.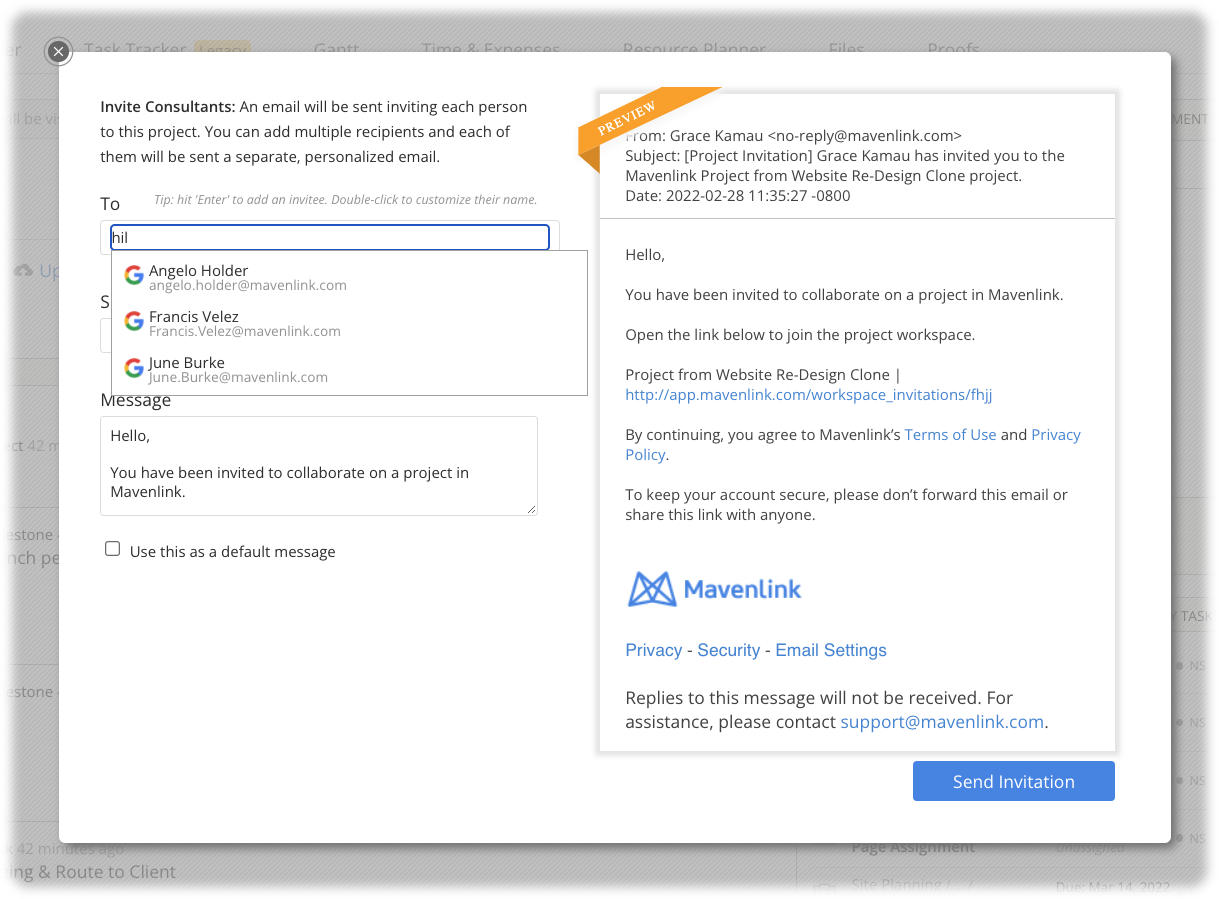 You can also add a Kantata OX project as a Google Contact. This allows you to make posts to a project and reply to posts via email. To add a project as a Google Contact, go to the Activity Tab of the project, and in the right column, click Create a Google Contact for this project. Then click OK to confirm.
Getting Started
Google Workspace apps can be integrated in Kantata OX on an account-wide or individual user basis.
If a company performs an account-wide integration, the integration is automatically performed for all users. However, users will still have the flexibility to override account-wide integration settings by adjusting individual user settings.
Account-Wide Integration
If your company chooses an account-wide integration via the Google Workspace Marketplace, each employee no longer needs to do so independently, and a Mavenlink shortcut is added to each user's Google Apps launcher.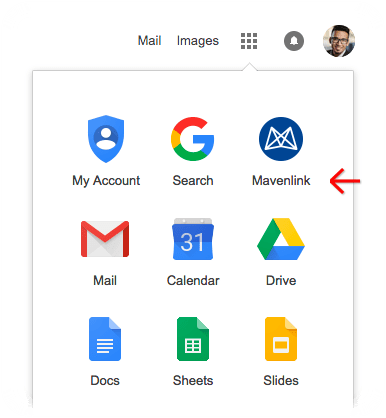 In addition, an account-wide Google Workspace Marketplace integration enables Google's single sign-on (SSO) solution. This means fewer passwords to remember, allowing members to move securely between services without interruption. This applies to all current and future Kantata OX account members as long as they have an email address that matches your domain name.
Individual User Integration
In order to seamlessly integrate with Google's collection of cloud-based applications, you'll need to configure your Google Workspace Settings, accessible from the User Profile and Settings drop-down menu.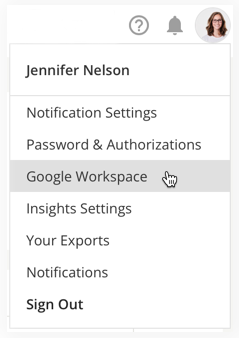 Select which Google Workspace apps you want to integrate and click the Activate with: Google button.

Be sure to grant Kantata OX permission to access your Google Account. You can check which apps you have connected to your Google account by clicking here:
https://myaccount.google.com/permissions
This page also allows you to see what parts of your account Kantata can access. For example, you can verify that Kantata has access to your basic profile information and the ability to view and manage Google Drive files.
TIP
To use Google Drive assets associated with a different email address:
Go to Kantata OX's Email Settings and Add the new address.
Look for a verification email in your inbox and click the link in that email.
Back in Email Settings, use the Google radio button to associate the new email address.
Click Update Emails.
To restore the account default Google address, click the Switch to account-wide Google integration link in your Google Workspace Settings.
Related Articles