How to Export Your Activity Feed
To save a PDF of a project's Activity Feed, first navigate to the project. In the header, click on the Actions ("   ") icon located to the right of the project name; the resulting drop-down menu includes an option to Save Activity Feed as PDF.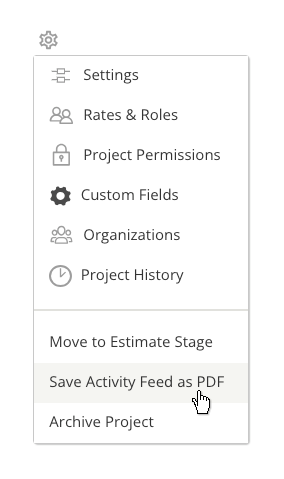 Export Projects, Posts, and Tasks
Members with account permission of Administrator (or higher) have additional export options accessible from the user Settings drop-down menu on the right-hand side of the main Kantata app bar; this menu can be found under your name and profile picture.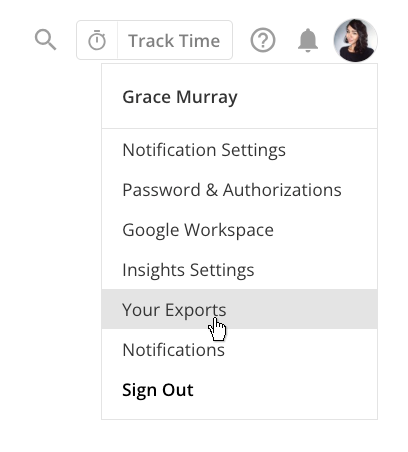 Click on your name, select Your Exports from the dropdown list, and choose what you'd like to export. Each export can be either a comma-separated value (CSV) or Microsoft Excel file (XLSX). 

How to Export Project Information
On the Exports page, select CSV or XLSX under Export Projects.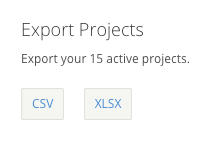 The exported spreadsheet includes the following information about your active projects:
The names of the client and consultant leads
Project Start Date, Due Date, Created Date and % Done
The Budget amount, including Currency, Amount Paid, and Budget Used
Total Time Logged and the Hours Approved for the project
The date and time the project was Last Updated
The total number of tasks, the number of completed tasks, and total duration of all tasks
Total Expenses, Total Cost, and Total Invoiced amounts
The number of estimated hours 
The Department and Geography (when the Organizations functionality is enabled)
Groups, Project Color, and custom fields
How to Export Project Posts
On the Exports page, select CSV or XLSX under Export Posts.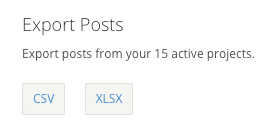 You'll be emailed a link to the exported spreadsheet which will contain the following information about posts on your active projects:
The ID and name of the project
The posted message and replies
The name of the member who posted the message
The Date and time the message was posted
How to Export Task Information
On the Exports page, choose whether to export your spreadsheet in CSV or XLSX format. There are three options for exporting tasks:
Export Tasks Assigned to You—The exported spreadsheet contains any task that has been assigned to you (across all projects on your account).

Export All Tasks in Your Projects—The exported spreadsheet contains all tasks for every project in which you are participating (regardless of who the task is assigned).
Export All Tasks on Account—The exported spreadsheet contains all tasks from all projects across your account, regardless of whether you are a project participant (i.e., assigned a task) or not.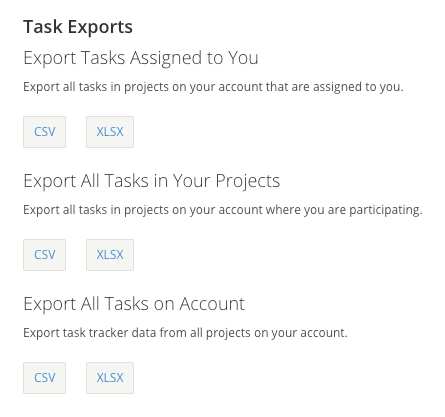 Each exported spreadsheet contains the following task information:
Name, ID, and current Status of the project
The task Title, Description, and Type
Task Start Date, Due Date, Duration and % Done
The names of all members assigned to the task
The date and time that the task was last Updated
Estimated budget, Planned Budget, and Actual Budget
Estimated and scheduled hours 
Actual Minutes Tracked to date
How many billable and non-billable hours have been logged
The Created Date and the member who created the task
Budget Progress (actual versus estimated)
Hours Progress (actual versus estimated)
Invoiced Balance
Relative start and due dates
Any checklist items associated with the task