Overview
Kantata's Organizations functionality allows you to structure and group your projects and account members by departments and geographies. This gives you the ability to limit access to specific projects in Kantata OX and keep sensitive information safe from unauthorized users. Account Administrators have access to see all projects in an account and cannot be given limited access. This is extremely valuable when operating out of multiple offices where particular projects and/or financial information isn't openly shared between locations.

Organizations also allow you to restrict which projects your account members may add themselves to voluntarily; an invaluable feature when working with contractors. In addition, organizations help categorize and limit access to project data in Kantata's Analytics reports, allowing you to see how different departments or regions are performing.
The Organizations functionality works best when only Account Administrators are allowed to create projects. By structuring your account this way, you can better manage each team's access to specific projects and keep your system configured correctly—giving you the most out of Kantata.
The Organizations settings are freely available to Enterprise users; they're also available as an add-on for Premier accounts. To enable organizations, contact Customer Success.
Note: There's currently a limit of 400 Organizations that can be set up for an account.
If you have existing data, you'll need to contact Kantata's Optimization Services team to migrate your projects.
How Organizations Work
In the example below, Angela Jacobs has been given access to Internal projects for the South Salt Lake office. Angela can now voluntarily join any project that is Open to Organization Members and also tagged with:
Internal and South Salt Lake
Internal and Utah
Internal and All (Global)
All (Whole Company) and South Salt Lake
All (Whole Company) and Utah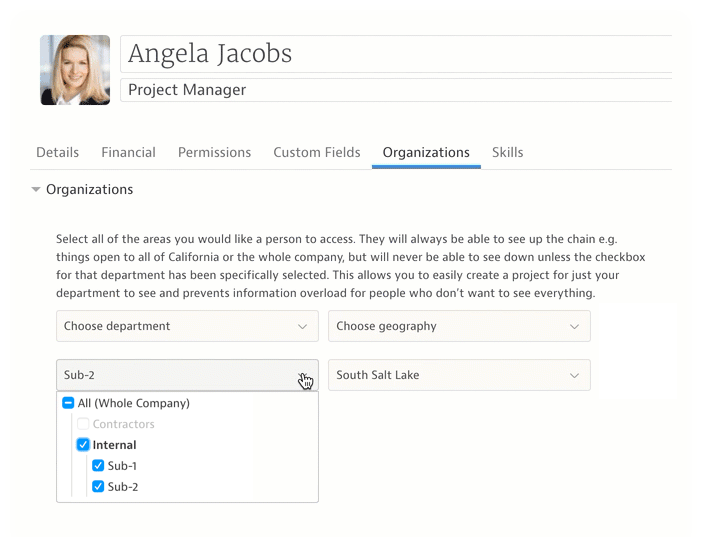 When Angela visits the main Projects page and selects Organization Projects from the Show drop-down menu, she'll see the following: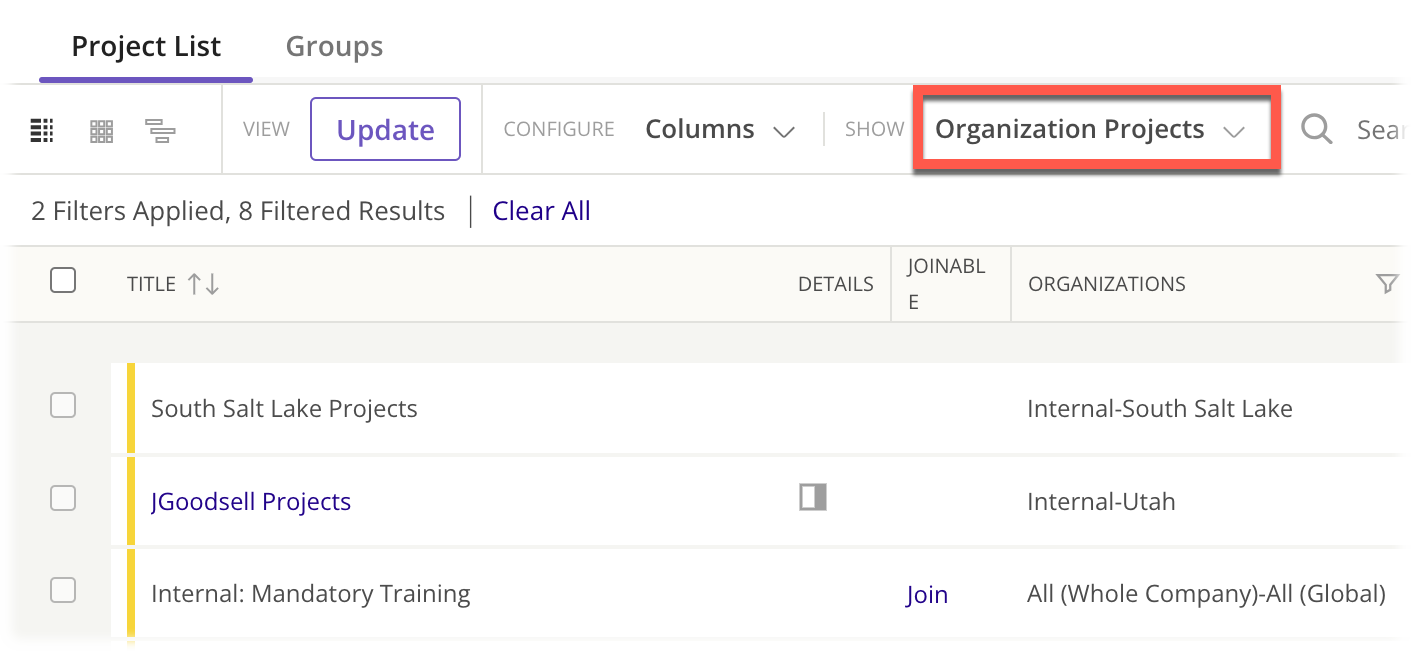 Although Angela can see the projects indicated above in the Project List and in Analytics reports, she is unable to Join because they are marked as Invitation Only in the Privacy section of their Project Settings.
When Angela selects Your Projects from the Show drop-down menu, she'll be able to see any projects that she has been added to by an Account Administrator, regardless of the organizations to which she belongs.

Keep in mind that Kantata's Organizations functionality in the Resource Center depends on your Access Groups settings and users who wish to filter the Resource Center list by organization can only filter by the organizations they belong to. For example, a member belonging to the Boston and Professional Services organization can only see all users in Resource Center—not just those belonging to their own Boston and Professional Services organization—if they have access to view all account members in the Resource Management Access Group set.
Note: If you have Organizations enabled for unnamed resources, you can only see unnamed resources added to the projects you are participating in—regardless of your Access Group settings or the organizations applied to them.
Additional Organizations Functionality
Depending on when your Kantata OX account was created, you may have access to further features in Organizations. All accounts that had Organizations enabled after the dates listed in the table below can complete the following actions:
| | | |
| --- | --- | --- |
| Feature | Description | Enabled Date |
| Apply Organizations to unnamed resources | Allows you to assign department and geography information to unnamed resources in the Resource side panel. | August 23, 2021 |
| Apply a Primary Organization to people and projects | Allows you to assign the primary department and geography combination that applies to a person or project. This designation determines what department or region-specific information a person can see, such as custom fields for tasks and projects. | July 6, 2020 |
If your account had Organizations enabled prior to the dates listed above and you would like to leverage these additional features, contact Customer Success to enable them.
Related articles