Overview
In the Payment tab of the Project Admin box, you can:
View which invoices are paid or pending
Create invoices
Log payments
To access the Project Admin box, hover over Projects in the left navigation and then select a project. You can find the box on the right side of the project workspace under the Activity tab.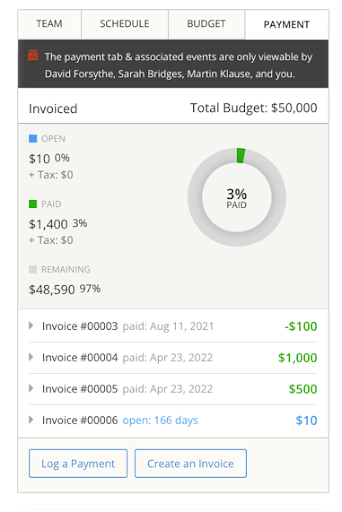 The Invoiced section shows the amount of both Open (blue) and Paid (green) invoice amounts, and the Remaining (gray) budget amount. The Total Budget section shows the percent of the budget that is paid in a pie chart format.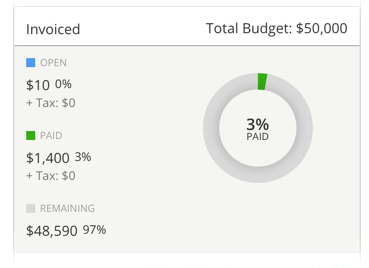 If your project has any invoices, they appear in the invoice list below the Invoiced and Total Budget amount section.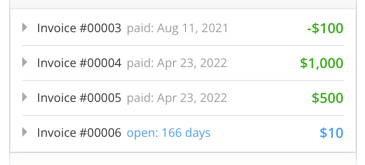 Click the arrow in-line with an invoice to view which user created the invoice and who applied the payment.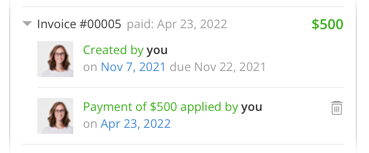 In the lower section of the Payments tab, you can Log a Payment or click the Create an Invoice button to go to the Invoices page.

To learn how to create an invoice, see the Create an Invoice for a Single Project article.
How to Log a Payment
In the Payment tab of the Project Admin box, click Log a Payment.
Enter an Amount.

Note: The Amount you enter must be a whole number and cannot contain a decimal amount (e.g. $500 instead of $500.75).

To attach the payment to an existing invoice, select the invoice from the Select an Invoice drop-down.
Enter a Message (optional).
Click Submit. The payment record appears in the project Activity Feed.
Related Articles