Welcome to Kantata!
You're here because a company you work with has invited you to join Kantata as a client. This article will introduce you to Kantata, show you how to log in, and give you some helpful tips to successfully collaborate using Kantata OX.
Did You Get the Invite?
In order to access Kantata OX, a current Kantata Account Member with the Can Invite? project abilities will invite you to the Client-side of a project. You'll receive an email notification once they've done this.

Follow the link in the body of the email to access the project workspace.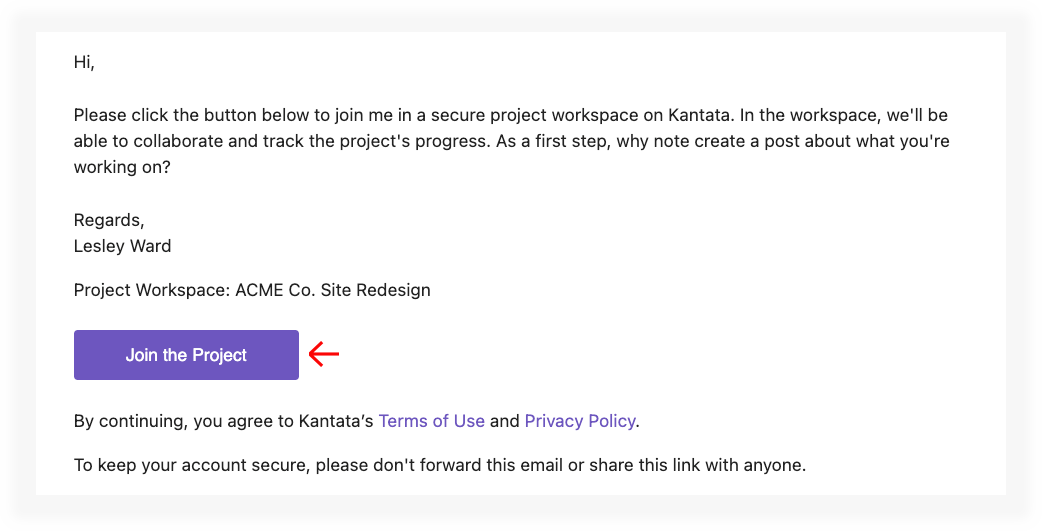 If you haven't yet created a Kantata account, you will be asked to set up and confirm a password for your email address.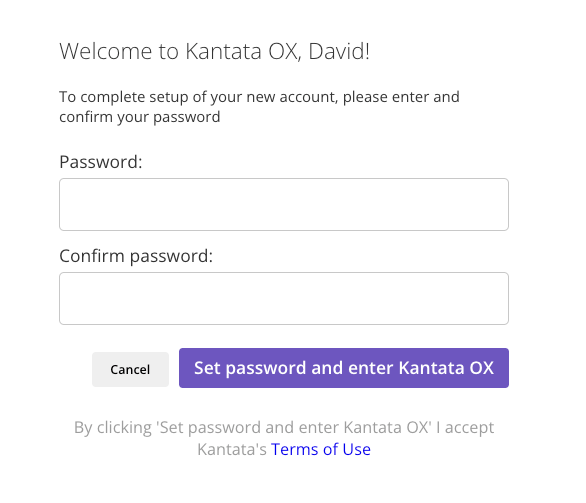 You'll then be allowed to enter Kantata OX to take a look at the project.
Getting Started
If you've just been invited to the Client side of a project, there are a few things you should set up before getting started. First, let's take a look at your Profile—accessible from the user Settings drop-down menu on the right-hand side of the main app bar. Click your profile picture to open the user Settings menu, then select your name to open your profile.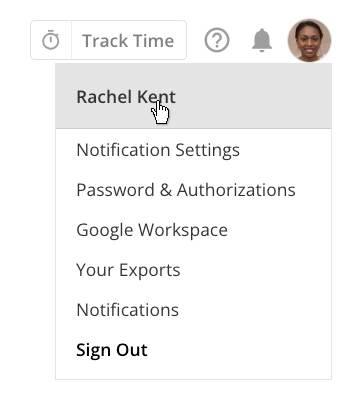 Profile
In the Profile settings, you can change your name, upload a photo of yourself, set your time zone, and provide additional personal information. Be sure to Save your profile changes before leaving.
Notification Settings
Next, let's look at your Notification Settings, where you can set what notifications you receive, how often you receive them, and where you receive them. Depending on account settings, you can receive notifications via different channels, receive notifications for all or only relevant activity, and subscribe to digest emails.

For more information about notifications, please see the Notifications article.
Email Addresses
Having multiple business or work email addresses is not uncommon, and you can add them all to your account. You'll be able to set your primary and secondary email addresses in the Email Addresses section within Notification Settings.

Other User Settings
Now, let's briefly cover some of the other options available from the user Settings drop-down menu.
To update your notification preferences, select Notification Settings.
To change your password, select Password & Authorizations.
If you use the Google Workspace integration, you can sync your Google Workspace data with Kantata.
You can export pertinent project data via CSV or Excel using the Your Exports selection.
Select Notifications to see your notifications.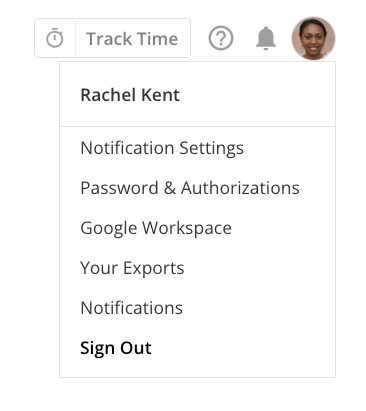 Dashboard
Next, let's jump into the Dashboard. You can access it by selecting Dashboard from the left navigation. The Your Dashboard view provides an overview of all your projects; it's where you stay in-the-know with the latest Activity Feed posts and follow conversations across projects for which you're a participant.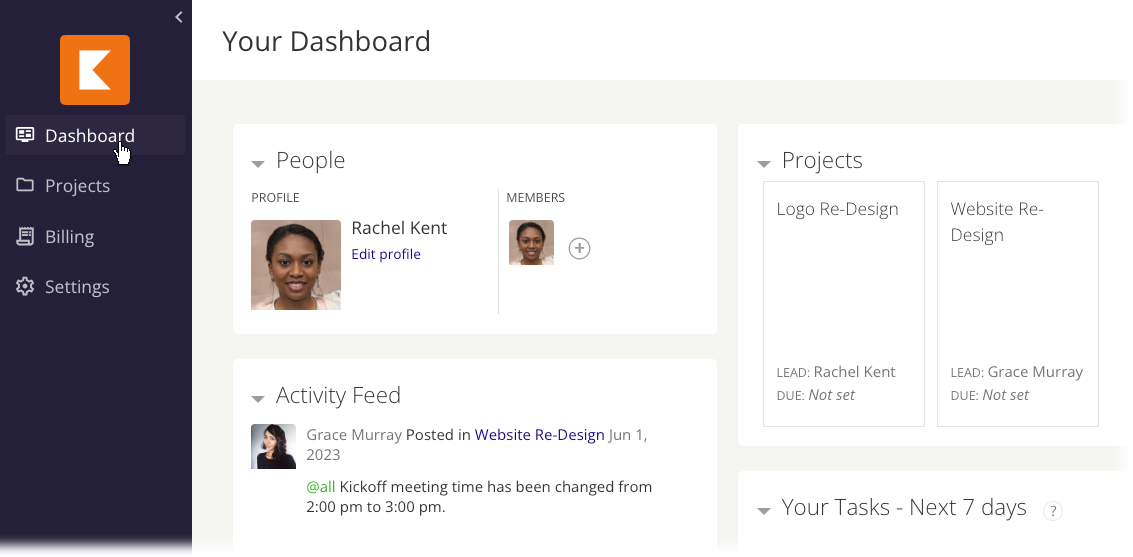 If you are assigned any tasks that are past due or due in the next seven days, you can see them here, sorted by due date.
If participants on the Provider-side of the project are using Kantata for invoicing, you'll be able to see any outstanding invoices across all of your projects.


Projects: Project List
Let's take a look at the Projects List tab. You can access it by selecting Projects from the left navigation.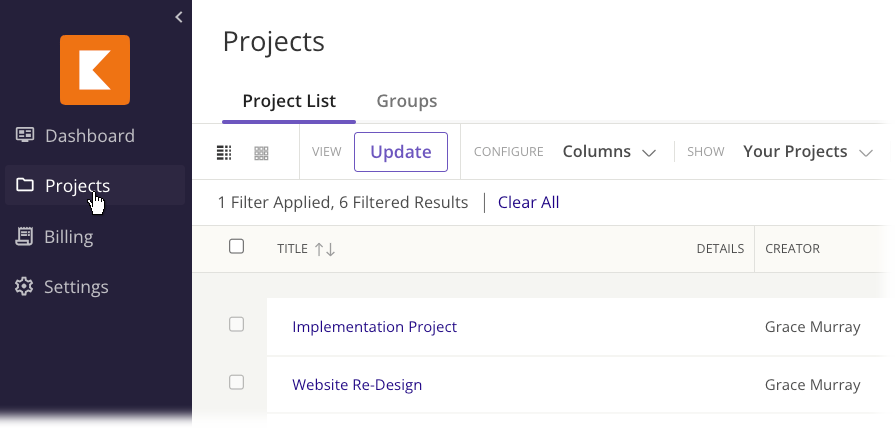 In the Projects List view, you will see a list of projects for which you're a participant. Each project name acts as a hyperlink that you can use to directly access the project. Selecting a project from the list will open the project's "workspace"—the underlying foundation for your work in Kantata. When you're in a project, you'll notice tabs such as Activity, Task Tracker, Gantt, and Files displayed across the top. By clicking on these tabs, you can access specific project-related areas.

Activity Tab
You can monitor the progress of your projects from the project Activity tab. Use the Activity Feed to create a public post (visible to everyone working in the project) or a private post (visible only to specific individuals). These activity posts are essentially threaded conversations you have or follow with other project collaborators. You can also @mention an individual directly to make sure they receive a notification.
You can also Upload Files from your computer to attach to your message post. If you've enabled the Google Workspace integration, you can Attach Google Files directly from Drive—such as Docs, Sheets, and Slides.
You can use the Link to Task option to select a task that belongs to this project; this will create a reference to the task in the post for organizational purposes. Once you've finished, click Post.
Project Admin Box
Next, let's look at the Project Admin box. By default, you'll have access to the Team and Schedule tabs. If you've been granted View Financials (or higher) project permissions, you can access the Budget and Payment tabs. Edit Financials (or higher) project permission is required to complete actions in those tabs.

Team—By clicking the Team tab, you can see who's collaborating on the project with you—on both the Provider and Client teams.
Schedule—On the Schedule tab, you can check the start date and due date of the project.
Budget—On the Budget tab, you can monitor the overall budget and approve or decline any proposed budget changes.
Payment—If the account you've been invited to uses Kantata for invoicing, you can access the project's complete invoice history on the Payment tab.
Task Tracker
The Project Task Tracker contains all the actionable task types (tasks, milestones, deliverables, and issues) that need to be completed to keep your projects moving forward on time and on budget, even if the Provider team is managing the project for you.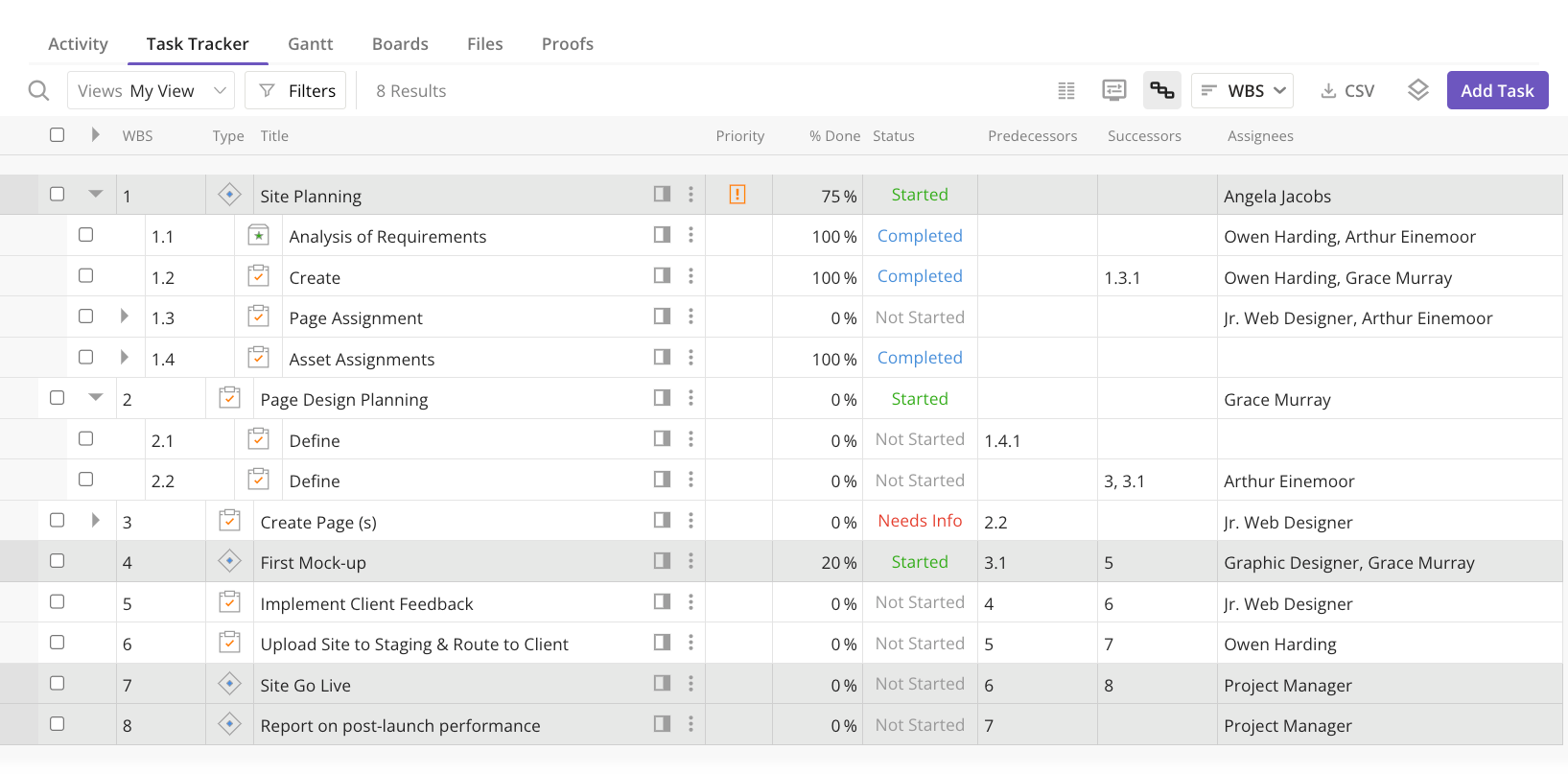 Click on an individual task from the Task Tracker to open the Task Details side panel, which allows you to jump to different task-related sections and take a look at the information associated with each task.
Gantt Chart
Accessing the Gantt chart gives you a visual representation of your project timeline in an interactive bar chart that illustrates the project schedule and allows you to see all your tasks, milestones, deliverables, and issues, including their start and end dates.

Note: The Gantt tab appears only if you are invited into a project that belongs to an account with a Teams subscription plan (or higher).
Files Tab
On the Files tab, you can locate any files that were previously added to the project.

Additional Resources
There are additional options that can be accessed from the left navigation; Time & Expense, Billing, and Settings as well as an Upgrade button if you want to investigate getting your own Kantata account.

You can access our Knowledge Base, blog, and status page from the Support drop-down menu.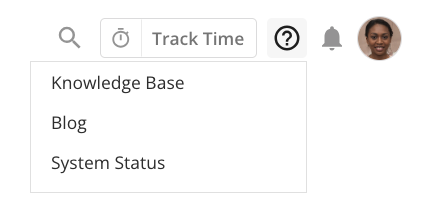 Related Articles
Kantata OX API