Vendors
These settings allow you to create a list of vendors that members can select from when logging an expense. This gives you control over which vendors can be selected when users log non-reimbursable expenses.
To access the Vendors settings, hover over Settings in the left navigation and select Time & Expense.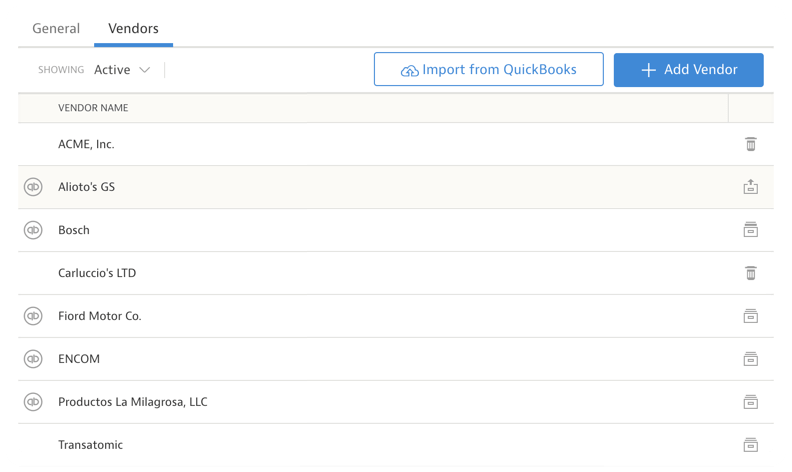 Vendor Settings
From the Vendor Settings tab, you can:
Add Vendor—This creates a new vendor to use for non-reimbursable expenses; names must be unique.
Note: Vendors imported from QuickBooks or a CSV file that already exist in Kantata OX will be ignored and not imported.

Delete ("

 

")—This will remove unused vendors from the list. For historical reasons, the ability to delete a vendor is only available if the vendor has never been selected for an expense.
Archive ("

 

")—For historical reasons, once a vendor has been selected for one or more expenses, they cannot be deleted. However, you can hide them as a viable option from the list of available vendors. Archiving a vendor does not affect any previously logged expenses; you can still report on the vendor's expense history, but no longer create new expenses for that vendor.
Unarchive ("

 

")—This makes the previously archived vendor available to select again for non-reimbursable expenses.
QuickBooks ("

 

")—This icon indicates that a vendor was imported via QuickBooks and contains vendor mapping records used during the expense sync with QuickBooks; vendors with this icon are considered managed by QuickBooks. Changes to a vendor name in QuickBooks will be reflected in Kantata OX the next time Import from QuickBooks is used.

Showing—Used to filter the vendors in the list by Active or Archived.

When filtered by Active, you'll see a list of available vendors; active vendors can be selected from the Vendor drop-down menu on the Expenses page.
When filtered by Archived, you'll only see archived vendors. Archived vendors cannot be selected from the Vendor drop-down menu unless they are first unarchived. However, archived vendors will continue to be shown for previously logged expenses in the table on the Expenses page under the Vendor column.


Import from QuickBooks—If you are using Kantata's QuickBooks integration, you can import existing vendors into your Kantata OX account. This keeps vendor information consistent in both programs and eliminates the need to manually enter data into Kantata OX that already exists in QuickBooks. Clicking this button takes you to the Intuit Settings page for your QuickBooks Integration and performs the import automatically.

Import CSV—This opens a standard operating system finder/explorer window where you can direct Kantata to the location of your CSV vendor file.

To import your CSV file, it must contain one column of vendors with the header of "name". If you're still not sure what to include, you can click the Download our sample CSV file link and modify the sample template.

Note: The vendors provided in Vendor Settings will appear in the Vendor drop-down menu on the Expenses page when the Reimburse to me box is disabled.
Related Articles