Why Estimate in the Project Workspace?
Estimating in the project workspace allows you to take advantage of Kantata OX's full project management toolset. Below is a list of just some of the features and functionality you get when you estimate in the project workspace instead of using legacy Estimates:
Task Tracker—Create accurate estimates by building out the work breakdown structure (WBS).
Templates—Quickly create project plans without having to start from scratch. You can even make changes to your templates to refine them over time and create more accurate estimates.
Overview tab—Get an easy-to-share financial summary of the estimate broken down by resource or top-level task.
Named and unnamed resources—Add both types of resources to the estimate at any time.
Activity Feed and Files—Communicate and collaborate with the project team in one central location.
Project Statuses—Quickly communicate where in the pipeline an estimate is.
Create Allocations from Resource Estimated Hours—Quickly turn resource estimated hours into soft allocations from the Task Tracker and compare your resource demand to your resource capacity much sooner in the project life cycle.
Data Integrity and Centralization—All the data you enter during the Estimate stage—tasks, hours, budget, etc.—will be retained in the Project stage.
For more information, see the Estimating in the Project Workspace article.
Overview
Estimating the cost of upcoming projects can be difficult, especially as the scale and complexity increase. Faulty estimates can cause resource shortages and exceeded budgets, which lower your profit margins. Accurate resource estimates and margin projections are a crucial part of initiating a successful project that keeps your teams thriving.
Fortunately, Kantata's legacy Estimates gives you the ability to create multiple staffing (or resource allocation) scenarios for each project. Selecting predefined roles and Rate Cards makes it easier to model margins and compare staff options across multiple scenarios. This functionality simplifies the estimation process and eliminates the guesswork necessary to make accurate financial projections for potential and/or future projects.
Before you begin, you'll need to figure out your target margin, project budget, and resource needs so you have a better understanding of what needs to be delivered and the resources required to work on the project. This way you can both produce a project estimate that will be an informed business decision and also "win the deal" with your new client.
Estimates Page
The main Estimates page consists of a list of your current estimates that display basic information about the client, creator, number of scenarios, and related actions. We recommend creating new estimates for each opportunity you have; individual estimates can later be turned into projects.
Note
: In order to access the
Estimates
page, you need to enable
rate cards
for your account.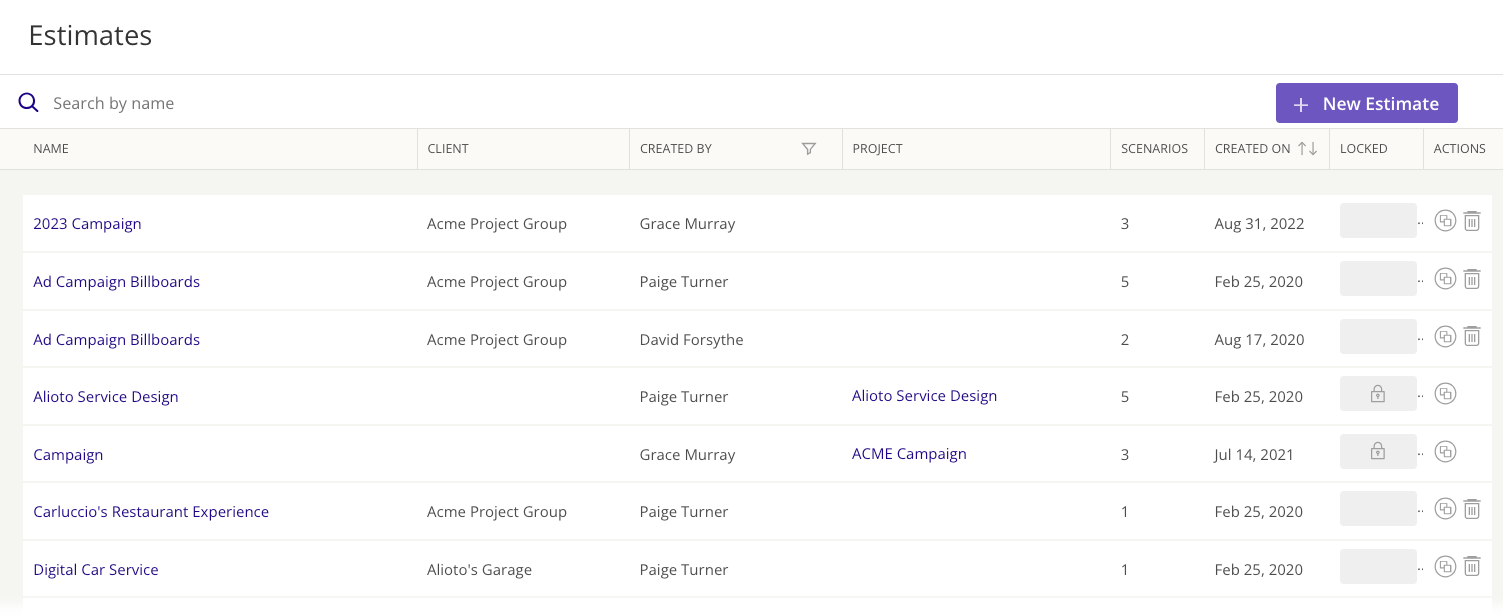 The Estimates list allows the following actions:
Sort By—By clicking the arrows to the right of the Created On column header, you can sort the list by creation date in ascending or descending order.
Filter By—By clicking on the Created By filter icon ("

 

"), you can filter the list by the person who created the estimate. In the Search field at the top of the filter panel, start typing the first few letters of the member name; all results matching your query will appear below the Search field. Check or uncheck the boxes depending on the members by which you want to filter. When you are finished settings options in the filter panel, click Apply; you'll notice that the filter icon will turn from an outline ("

 

") to solid ("

 

"), indicating that the filter is active. You can remove all filters by clicking Deselect All in the upper-right corner of the filter panel.
Delete ("

 

")—Allows you to permanently delete an estimate.

Note: You cannot delete a locked estimate; this occurs when a project has been created from one of your scenarios. When an estimate is locked, none of the scenarios, resources, or allocations can be updated or deleted.

Clone Estimate ("

 

")—If you are putting together an estimate similar to one that was previously created, you can clone the data from an existing estimate to determine the general effort and cost. From here, you can plug in information for your new project. Before cloning, we suggest checking to see if the initial project was a success.

Note: You are currently unable to change the Currency in cloned estimates. Therefore, if you need it to be different, you'll need to create a new estimate.

New Estimate—This button opens the Create a New Estimate page, where you must provide the estimate name, the client, and the start date. You may also configure financial information for your new opportunity. When a new estimate is created, your first scenario is also created.