Overview
The External Members side panel consists of several sections where you can view or edit external member details and information. These sections include:
Details
Login Status
Access Groups
Organizations (orgs only)
Custom Fields
Skills
To access an External Members side panel for a specific member, go to Network > External Members, and then click the Name.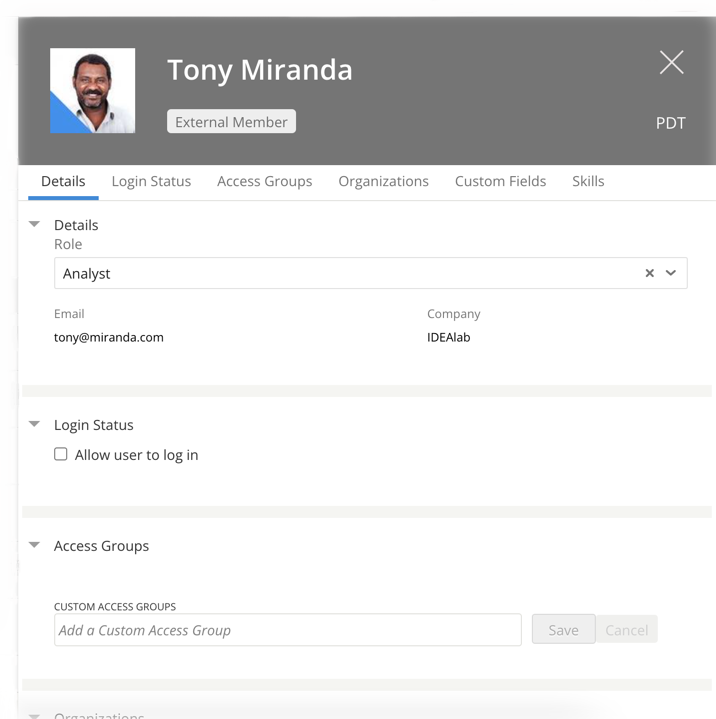 Header
The External Members side panel header contains the member name and their time zone. If you have Custom Branding enabled, the color of the header will change to match the left navigation color. You can click Close ("   ") or press Esc on the keyboard to close the side panel.
Details
In the Details section, you can view the member Role, Email address, and Company information. To assign or change an external member's role, select an option from the Assign a Role drop-down.

The Login Status section allows you to control whether or not an external member can log in to the Kantata account or not. If you prefer to only use the external member for tracking purposes in Resourcing areas of Kantata and don't need them to log in to make changes to any projects, we recommend that you leave the Allow user to log in box unchecked.
Note: Each external member that has the Allow user to login option enabled requires an additional license. You can add up to 15 external members to your network without additional licenses as long as they aren't allowed to log in.
Access Groups
In this section, you can add the external member to an access group by selecting an option from the Custom Access Groups drop-down menu.

To learn more, see the Access Groups article. 
Organizations
Select the department(s) and region(s) you would like this member to access (orgs only).

For more information, see our Apply an Organization to Account Members help article.
Custom Fields
This section displays all the User Custom Fields—previously created by Account Administrators—that you can apply to the external member, if applicable.

Note: If you are an Account Administrator and want to add or remove a user custom field, go to Settings > Custom Fields.
To learn more, see the Custom Fields Overview article.
Skills
This section displays the previously created skill(s) and related proficiency levels that are currently assigned to the external member.
Account Administrators or Managers—if granted permission—can add additional skills for the external member by clicking the Edit Skills link and then the Add Skills button.

Account Administrators can create new skills or edit existing ones in Settings > Skills. To learn more, see the Skills Overview article.
Related Articles
External Members Side Panel Overview