Overview
The Early Access page gives you the ability to activate exciting new Kantata OX features on your account to give you more control over your feature adoption and change management.
Early access features have been thoroughly tested and are generally available to everyone. Enabling these features gives you and your users a chance to become familiar with them earlier on and learn how they will benefit your unique processes. If at any point you want to remove an Early Access feature from your account, you can go back to the Early Access page and toggle the feature to Off.
Note: Currently, only Account Administrators have the authority to enable early access features via the Early Access page. Once enabled, the feature will appear for all members on the account.
The Early Access Page
To locate the Early Access page, hover over Settings in the left navigation and then select Early Access.

The specific features that you can enable will vary depending on which product enhancements are currently available. In the list, you will see a quick overview of what a specific feature does, the benefits it offers, and a link to a Knowledge Base article that can give you more information on its usage and application.
To enable an Early Access feature, toggle it On.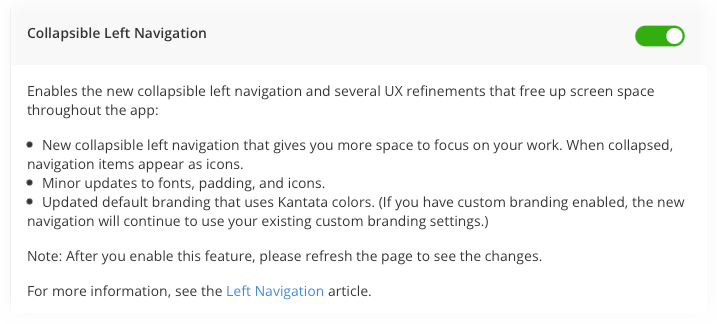 Once a feature approaches its general release, you'll be notified ahead of time that the feature will soon be removed from the Early Access page and fully integrated into all accounts.
Related Articles