Overview
Nearly all create, delete, or update events that occur in Kantata OX are logged and can be reported for compliance audits. With system audit logging, you can see who, what, when, and where changes were made in key areas such as projects, tasks, permissions, time entries, approvals, and more. With Audit Logs, you have instant visibility into what's happening across your Kantata account.
For a list of object and events that are currently audited, please refer to the tables here.
How to Access Audit Logs
An Account Administrator can access the Audit Logs tab by hovering over Settings in the left navigation and selecting Security from the General section.
At the top of the Audit Logs section are controls that allow you to export and share an audit log report in a variety of formats or print the entire dashboard to PDF.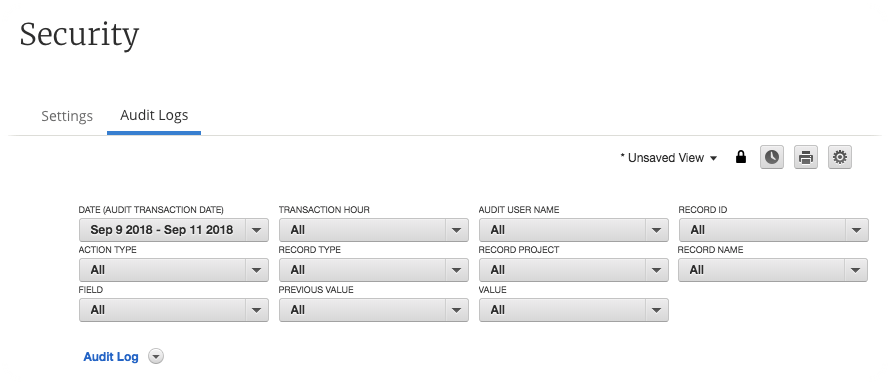 Dashboard Views
Use the Views drop-down menu to select a dashboard view. The Default View includes audit transactions from today through tomorrow using the UTC (Universal Time Coordinated) time zone.

Additionally, you can create and save custom views from frequently-used dashboard filter settings; each saved view can be named and selected again at any time from the Views drop-down menu. Your currently-selected view is remembered the next time you access Audit Logs.
How to Save an Audit Log View
First, set the dashboard filters to the values that you want to save as a view.
Click Unsaved View and select Save current view.
In the Save current view dialog box, select the filter(s) that you want to include in the view.

Filters set to All and filters with no values selected are reset to their default value.
When you save a view, filters that you did not select are reset to their default value.

Enter a name for the view in the Save current view dialog box, and then click Save.
Dashboard Controls
Schedule Emails ("

")—Automatically email an audit log PDF attachment to yourself and others. The PDF is created using the same filters that are applied when you schedule the email—allowing you to receive the exact information you need without logging in to Kantata OX. Email recipients can unsubscribe at any time by using the unsubscribe link in the email.
Download PDF ("

")—Creates a printable PDF of the entire Audit Log dashboard.
Export ("

")—Exports the Audit Log dashboard in PDF or XLSX format.
Note: Reports that are grouped by attributes contain merged cells by default in the exported XLSX file. If you want to process the data additionally in a spreadsheet, uncheck the Keep attribute cells merged checkbox when you export file.
How to Schedule an Audit Log Email
You can schedule a recurring email that includes a PDF attachment of the Audit Logs dashboard.
Adjust the filters to reflect the dashboard that you want to email. For example, you may want to schedule an audit log report that includes all time entry submissions for a selected project.
Click the Schedule Email ("

") icon in the top right corner.
Choose the Dashboard Tabs to email: all current and future tabs in the dashboard or only selected tabs.
Choose the emailing schedule; how often it repeats and at what time.
Optionally, you may define a custom email subject and message, or add additional recipients.
Click Schedule. Kantata will begin scheduling emails and the audit log report will be generated with the currently active filters.
Dashboard Filters
By default, all new data is sent to the audit log report. Since this may be a large amount of data, filters allow you to specify what data appears in the report—you may limit your data to time periods or attribute values of interest (e.g., individual users who made changes). After selecting a time range or a set of attribute values in one of the filter drop-down menus, click Apply to recompute using the new conditions.

Here are the the available dashboard filters for Audit Logs:
Date (Audit Transaction Date)
Transaction Hour
Audit User Name
Record ID
Action Type
Record Type
Record Project
Record Name
Field
Previous Value
Value
Note: Other Kantata users aren't impacted by your selections or settings.
Generating an Audit Log Report
Click on Audit Log to generate your report.
When the Audit Log appears, you'll see a table full of transactions, events, and changes; you'll see the Record Type (event logged), the Previous Value and the current Value, and the following action types: Create, Update, or Delete.
Reports are dynamic; you can click and drag columns to regroup and rearrange your audit log.
Click Filter to select from a list of values (including date ranges) that help you narrow your audit log results. For example, you may only want to see when things were deleted—and who deleted them.

Note: The audit log contains audit data for the past 6 months of activity on your account.
Related Articles