Overview
The Global Gantt chart provides a high-level overview of active projects, allowing you to visually compare scheduled dates with actual dates. You can access it by opening Projects from the left navigation and clicking the Gantt view icon ("   ").

The Global Gantt chart is separated into two sections, with the Projects list on the left, and the corresponding Schedule on the right.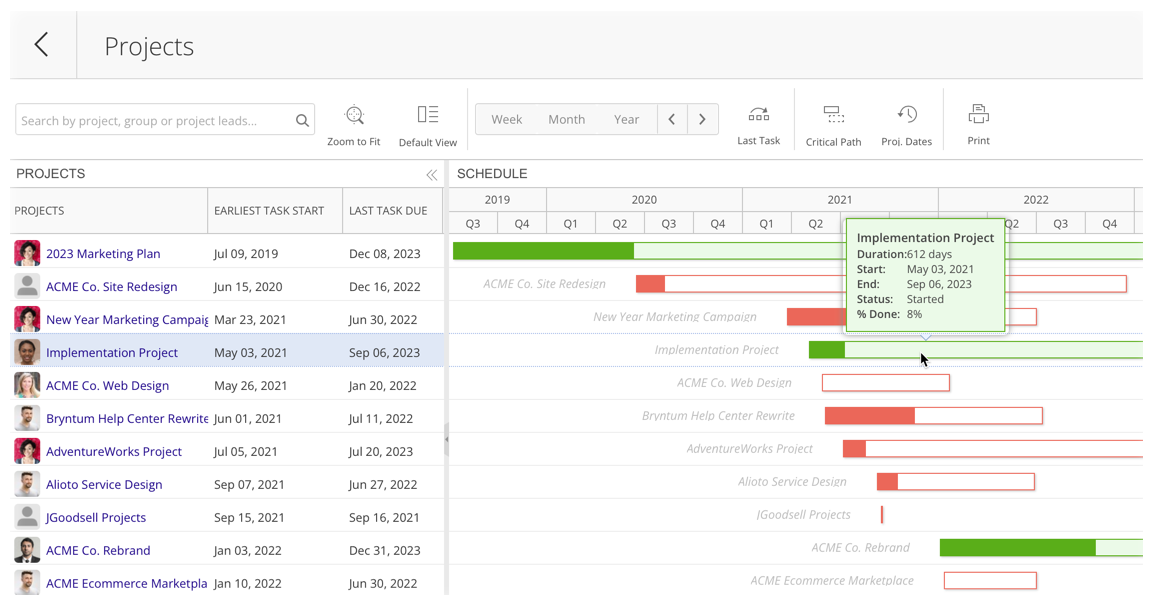 Projects List
The Projects list contains your active projects. When this section is expanded, the columns provide relevant information, such as Earliest Task Start date, Last Task Due date, Project Start, Project Due, Duration, Burn Rate, Paid, % Done, Budget, Groups, and Provider Leads.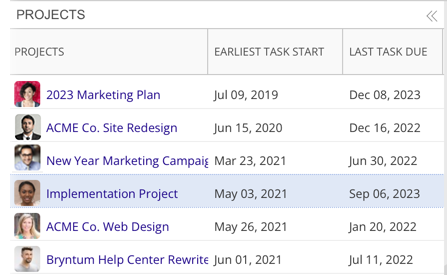 The information in each column is pulled directly from the project and updated each time you make a change in the Task Tracker or the Local Gantt chart.
Note: Since only 500 projects are displayed in the Projects list at any time, we recommend that you archive completed projects to make room for new projects.
Use the Search field at the top-left corner of the screen to quickly find what you're looking for without scrolling through a long list. Just start typing the first few letters of the Project Name, Group, or Provider Lead, and all results matching your query will populate the list below.

One of the most powerful features of the Search function is that you can search projects by group name or client name. If you're using the project Groups feature, simply enter the name of the group or client and all the projects associated with it will appear in the list.
Global Gantt Chart Schedule
The Schedule to the right of the Projects list depicts the lifecycle of your project plan. The colored bars are visual representations of the health of each corresponding project. One of the biggest features of the Global Gantt chart is the ability to see exactly how scheduled projects align with the actual workflow.
Scheduled Dates—The Start Date and End Date entered when the project was created.
Actual Dates—The date when work on the first task actually started, and the date that the last task on the timeline is currently due.
When you click on Project Scheduled Dates in the timeline header, a thin bar representing the actual dates of each project appears above the scheduled dates.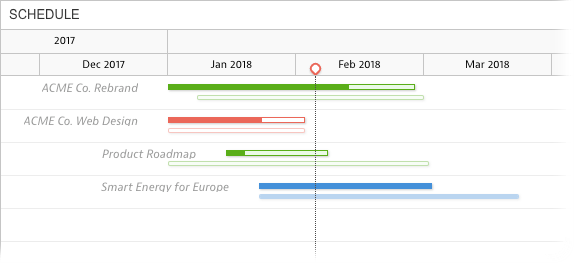 Click the Project Scheduled Dates button again to return to the default Schedule view.
When you click the Last Task ("   ") or Critical Path ("   ") button, it will highlight the project in the list with the due date furthest out on the timeline.