Overview
Assigning weighting to Milestones allows you to define various percentages of project completion along the way. Once you complete a milestone, you will know what percent of the project's budget it's time to invoice for. Milestone weighting is important for revenue recognition and billing cycle completion and is especially helpful for projects where payments are tied directly to achieving certain milestones during the project lifecycle.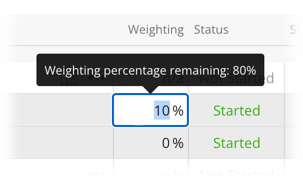 Once you assign weighting to the project milestone tasks, you can view their progress in the Schedule tab of the Project Admin box.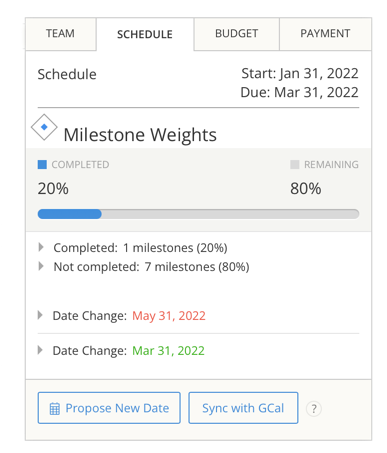 Note
: You must have the
Edit Financials
project permission
level or higher to assign weighting to tasks.
Weighted milestone tasks cannot be archived or deleted. If you need to archive, delete, or change the task type of a weighted milestone, you need to first remove the Weighting percentage in the New Task Tracker.
Assigning Weightings to Milestones
In the left navigation, click Projects and then select the desired project on the Projects page.
In the Activity tab of the project workspace, click the Task Tracker tab.
In the Tracker Table, click the Weighting field in-line with the milestone task you want to assign a weighting percentage to and enter a number between 0-100.



Note

: If you don't see the

Weighting

column in the Tracker Table, you will need to add it via the

Configure Columns

modal.

Hit Enter on your keyboard. The weighting percentage is applied to the milestone.
Related Articles